When producing creative content for social media, users may need to learn how to speed up a video on iPhone. For instance, if you have recorded a long video with your iPhone and want to share it online, you can speed it up so it becomes shorter. You can also use the feature to make funny videos by speeding up certain parts of the footage. This can be great for creating humorous content or adding a comedic touch to an otherwise serious clip. So, can you speed up a video on iPhone? With the range of applications and services available, you are able to do it almost effortlessly. This article will discuss 5 video speed controllers that you can use to speed up your iPhone video.
1. How to speed up video on iPhone for free and online
If you wish to accelerate a video on your iPhone fast, free, and without taking up the valuable storage space of your phone, then Video Candy is the perfect choice for you. This web-based video editor offers an effortless and accessible method to modify videos and edit video speed on iPhone in a few easy steps. Here is a guide on quickening a video on iPhone:
Open the speed up video tool in Safari or other browser.
Choose the video that you want to fast forward with the "+ Add File" button.
Once the upload is complete, choose how many times you want the speed to change: anywhere from x1.25 to x5. You may also mute the clip at this stage.
In the preview window, play the resulting video. When you are satisfied with the outcome, select "Export" to proceed.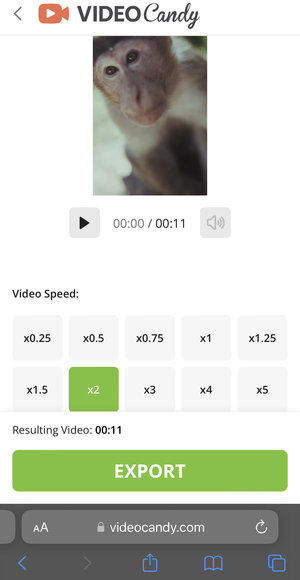 Choose to download the file or continue editing. With this very same video editing platform, you can reverse your clip, add music, flip, merge videos, and more.
Pros:
It is a free tool for iPhone to speed up your video.
Does not require any additional software downloads, so it won't take up any storage space on your device;
The user interface is intuitive and convenient, and even those with no prior experience in video editing can quickly get started;
You can speed up your iPhone video on any model - Pro, ProMax, Plus, Mini, and SE.
The video speed controller for Safari, Google Chrome, and other browsers.
Supports numerous video formats including HEIC, AVI, MP4, MOV, and more;
The website offers a variety of supplementary instruments to further manipulate your video.
Overall, this is an excellent choice for accelerating videos on iPhone and utilizing its various features for free! For instance, you might need to increase the playback rate of a video on your iPhone to create a time-lapse effect. This is particularly useful when recording events like sunsets and sunrises that take longer than usual. With Video Candy you can speed up video on the go!
2. How to make a video faster on iPhone with iMovie
Modifying a video using an iPhone and iMovie is a good approach to customizing videos. This default Apple application has many tools that allow users to manipulate videos easily, including the solution on how to fast-forward a video on iPhone. Follow these steps to speed up videos on an iPhone with this program.
Open the app on your iPhone.
Select "Create New Project"and choose "Movie".
Tap the clip on the timeline and locate the "Speed" settings on the toolbar.
Make the adjustments to quicken the clip x1.25, 1.5, 1.75, or x2.
When you finish, select "Done" in the top left corner.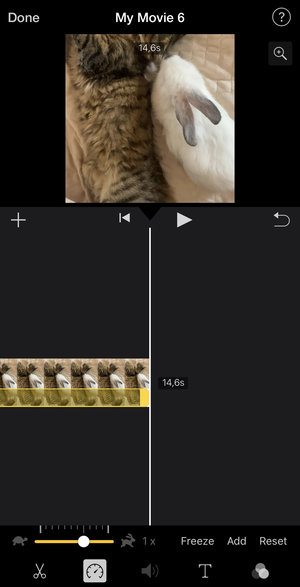 Pros:
Specifically designed for iPhone to speed up videos and perform other editing operations.
Supplementary editing instruments for further manipulations, such as muting the video or applying a filter.
Cons:
Limited to speeding up x2 only. If want faster, you will need to perform the process multiple times.
There is no "Save" button, so you want to double-check that the effect got applied to your clip.
If working with a vertical video, the program will make it horizontal, adding black bars on the sides.
In summary, this app is handy when need to do basic video editing. However, it might not be the best choice for speeding up iPhone videos due to the limited capacity of this tool. In addition, if you choose this program as your video speed editor, you will need a tool to adjust the video ratio.
3. How to fast forward a video on iPhone with InShot
This software allows you to quicken a clip on an iPhone and achieve the results almost without effort. The app offers various tools, making it perfect for editing videos on mobile devices. Here is a guide for speeding up a video from an iPhone utilizing the program:
Download the application from the App Store.
Open the app and select "Video" on the "Create New" panel.
On the toolbar, find the "Speed" and adjust the playback rate on a scale of 1 to 100.
Tap the checkmark icon to save your changes after you speed up your iPhone video.
Now, located in the top right corner of the export icon, click it and then hit "Save".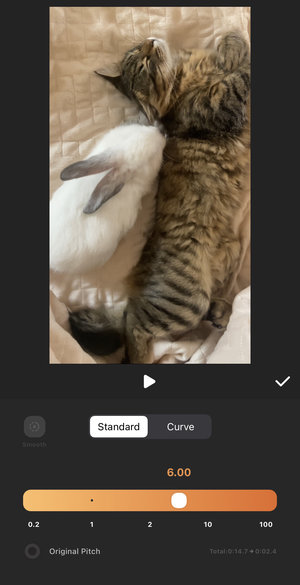 Pros
Quick and easy to edit video speed on iPhone.
A range of speeds to choose from.
Cons
The app adds a watermark on your video.
The free version includes ads that can be distracting while speeding up videos.
Editing with advertisements requires spending more time than you would without them.
This program is a good video speed controller, especially for adjusting the speed of your clip, with additional features to crop the video or apply a stop motion effect, and much more. However, the major downsides of the free version force to choose a different editor or commit to the paid account.
4. How to speed up a video on iPhone with Canva
This is an advanced tool to speed up videos on iPhone. With the variety of templates, you will always be sure that your final video fits the ratio of the social media platform you upload it to. The below guide will help you increase the speed of a video on your iPhone with this app:
Download the app to your iPhone. Sign up for an account if you don't have one or log in using your existing credentials.
Click "+" and choose "Mobile Video" option to start with a blank layout.
Upload your file by tapping "Choose Video" and select it from your library or camera roll.
On the toolbar find the "Playback" button and pick the accelerating rate from 1x to 2x.
Once you have made your selection, close the adjusting speed window and save the video by clicking the export icon in the top right corner.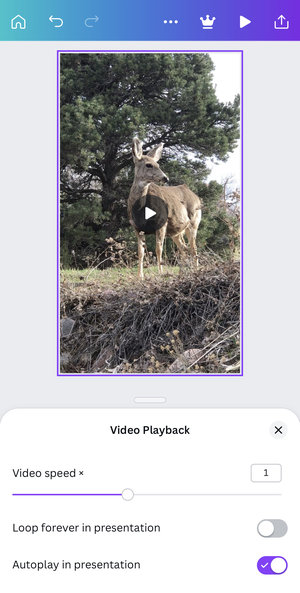 Pros:
User-friendly interface with a tool to speed up a video on iPhone and other editing instruments.
Offers templates for specific platforms and has a library of clips and images.
Cons:
Limited fast-forward option - only up to x2.
Certain features are not available in the free version and require a subscription.
Some users report occasional issues when editing videos.
This editing app has evolved to suggest designs and pre-made layouts for almost any occasion. Yet, the option to speed up a video is quite limited. That means that when working with this software, you need to perform multiple manipulations to get the speed of your video to the desired rate. Also, you will need a supplementary app to add background music to your video.
5. How to change the speed of video on iPhone with the BeeCut Video Editor
This video editor with one of the features to speed up videos. The application has a straightforward interface that will be easy to get used to. Read the guidelines below to learn how to fast-forward a video on iPhone.
Download the app from the app store.
Open and click the "+" button in the middle of the screen to upload a video. Once you picked the clip, click "Next Step".
Select the video on the timeline and choose the option "Speed". You can speed up your iPhone video from x1 to x4.
When you finish, press the "Export" button on the right top corner.
Pros:
The intuitive user interface is simple for novice users to edit their videos with a few clicks.
Cons:
Many users report system glitches that result in data loss.
Overall, this free video speed editor is worth giving a try. However, not many would want to take the risk of losing all the progress made while editing their videos. Hopefully, developers will solve the issues so that the software works flawlessly and allows create outstanding content.
How to speed up a video on iPhone: Conclusion
Sometimes, you may want to speed up a video. Whether it is to shorten the length of a long-winded lecture or make a time-lapse video, there are many advantages to speeding up a clip. As a social media user, you could wonder how to speed up a video on your iPhone for Instagram. Speeding up a video is an easy way to create cool effects, save time and reduce file size. Looking at the provided methods on how to fast-forward videos on iPhone, pick the toolkit that fits your needs and budget, and begin creating media content right now!
Other articles you may find interesting
As you explore the possibilities of video editing on your iPhone, consider reading about 4 ways to edit videos on iPhone. All are supported by all iOS devices. This can become your go-to service when you need to perform video editing tasks fast and without taking up the storage capacity of your smartphone.
Exploring options on how to share the videos you produced? Apart from uploading it to popular social media files, potential employers could ask you to provide your work samples. Read about the ways to compress a video for email to complete this requirement without delay and hesitation.