Knowing how to edit videos on an iPhone will help you create high-quality social media content or make a memorable family film. With the right editing tools, you can combine videos, trim them, add music, and more. Such skills are a great asset in sharing news with friends or professionally promoting your business.
1. Edit video on iPhone for free with Video Candy
If you are looking for a convenient and easy solution for editing a video on an iPhone, look no further than videocandy.com. The website is designed in a way that allows mobile users to come up with stunning videos in just a few steps. Moreover, the service is completely free! Below is a guide on how to use this free online platform on your iPhone.
Open the Video Editor with Safari or any other browser on your iPhone.
Click the "Add File(s)" button and select the video clips from your photo library or a folder.
Customize your video by including a transition, choosing a piece of background music, and changing the scene setting. Decide on the scene settings, trim, crop, rotate or flip the fragments. You are also able to adjust the fit size and video ratio.
Once finished, preview the final result and hit "Export".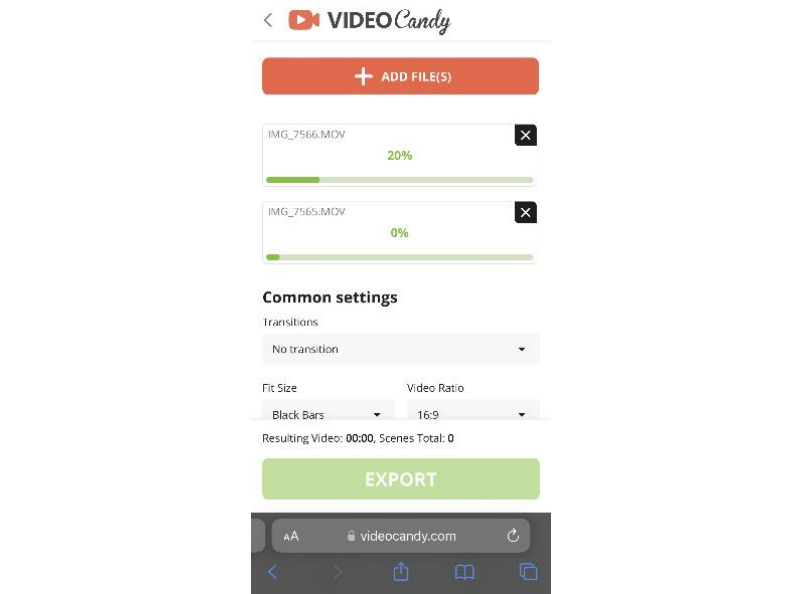 When processed, click the "Download file" button to save the video back to your device. Now, upload it to social media platforms like YouTube, Facebook, Instagram, and Twitter. This mobile video editing platform makes it simple to produce breathtaking videos without any prior experience.
Pros of online video editor for iPhone:
It is free and straightforward to use;
Supports videos of up to 2 GB;
No prior technical knowledge of video editing is required;
You can access all of the editing tools directly from your iPhone, so there is no need for a computer or a special app;
Works online with a browser of your choice.
The service also offers supplementary instruments, for example, changing speed or looping a video, has audio and video converter, and more. If you are searching for a way to edit videos on your phone without any paid application, try the online editor!
2. How to edit video on iPhone with iMovie
The specifically designed Apple app allows iPhone users to produce a short video for social media or a longer film for YouTube. Use the guide to get accustomed to the video editor.
Open the iMovie app.
Start a new project by selecting one of the available templates: Magic Movie, Storyboard, or Movie.

Should you choose Magic Movie, the app will generate a video from the uploaded files automatically.
In case you decided to make your video with Storyboard, pick a layout according to your topic. Then determine the style and other adjustments, such as cropping video or muting. As you finish customizing the settings, click "Create."
If you want to edit the video manually, select the Movie option and begin editing on your iPhone.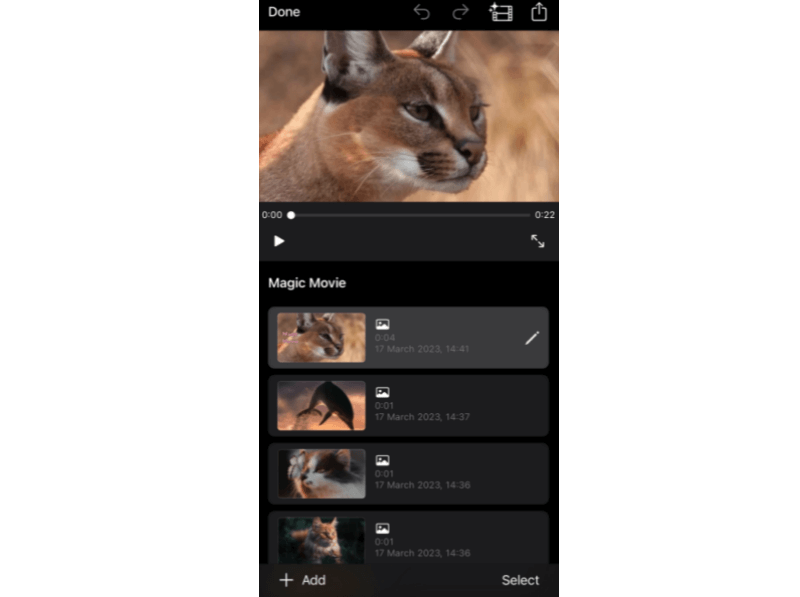 Regardless of the template used, export your file once all wanted modifications are made. Choose to save it to your phone, upload it to your social media, share it via email, or send it as a direct message.
Pros of using iMovie for editing videos on iPhone:
Preinstalled app on Apple phones: 14 and younger, models Pro, Pro Max, Plus, Mini, and SE;
A basic video editor for iPhone;
Possibility of having your video crafted for you.
Cons:
The video editor's design is more comfortable for working with horizontally oriented videos.
Ultimately, iMovie is a convenient application as it is already a default program. The alternative of auto-creating a video cuts the time you spend producing multimedia while still delivering excellent content.
3. How to edit videos on iPhone using InShot
InShot Video Editor is a popular video editing app for iPhone that lets you create amazing videos. You can easily trim, split, or alter the speed of a fragment, as well as put music or special effects to your video. In addition, you are able to use the app to enhance your photos and generate stunning slideshows. Read about the editor below.
Install the app from the App Store.
Choose "Create a new video". Add clips you decide to include in the film.
Make edits utilizing the features: add background audio, apply filters, insert picture-in-picture, and more.
Hit "Save" when ready and select the resolution, frame rate, and format.
After the project has been processed, export it to your smartphone's memory or publish it straight to your profile. Overall, InShot is a good application for anyone needing an easy tool to edit their videos on any iPhone model, be it a Pro Max or Mini.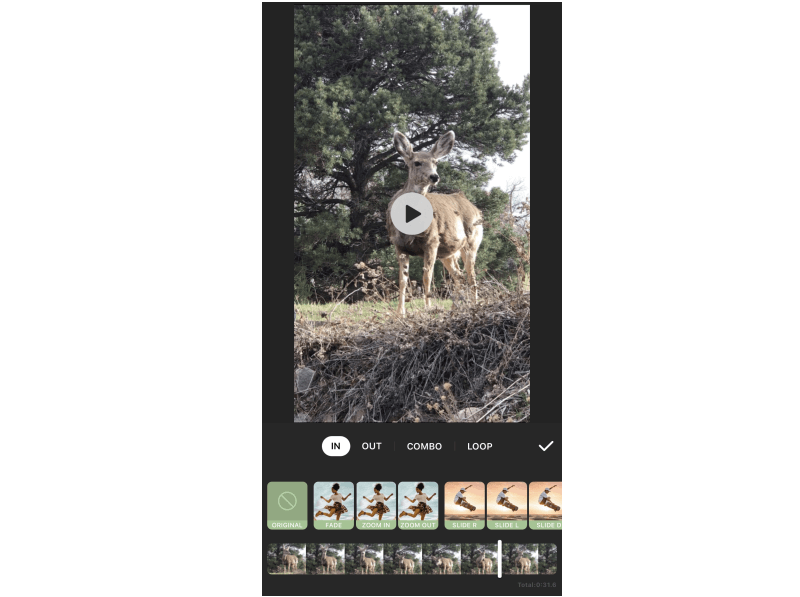 Pros:
Has a FAQ section with helpful information;
Simple interface with a variety of tools.
Cons:
Adds a watermark on videos in the free version;
Has advertisements that slow down the video editing process and distract from work;
Some effects and transitions are only accessible with the Pro subscription.
In summary, this app is a well-known video editing software for iPhone users. It offers many instruments to customize the video for further usage on social media.
4. Use Canva as a video editor for iPhone
Editing videos on an iOS device using the Canva video editor is an excellent toolkit to incorporate a personal touch into your video. With the app, you can put together beautiful visuals without having to pay for a specialized program. Here is how to operate this editing app to manipulate video clips with an iPhone:
Install the application from the App Store and open it up. Sign up for an account.
Tap "+" to start a new project. Select Video.
Select a template or click "Create blank" to begin working from scratch. Upload files from the camera roll. Once your video is uploaded, add text, stickers, images, shapes, and other elements to your design.
Tap the export icon in the top right corner after editing. Download or share a link as a personal message or a post on your social media feed.
Pros of using Canva as a free video editor for iPhone:
Video editing platform offers various templates for specific social media post/stories size;
Gives the option to insert shapes and stickers to personalize the video.
Cons:
Limited features to edit videos because it is primarily a photo editor;
Certain components are exclusive to the Pro version;
One may experience loading errors when sharing the file;
The app's interface is not too intuitive on the phone.
Thus, editing a video on an iPhone with Canva offers an excellent opportunity to insert appealing visuals and perform basic manipulations.
Tips for editing videos on iPhone
Edges. Once you have loaded your footage into a video editor, crop video edges to eliminate unnecessary details. This will help craft a clean video that is pleasant to watch,
Titles. Captions are great for introducing new video sections or highlighting key points throughout the clip. There are plenty of tools for incorporating titles on iOS, including built-in options in some video editors for iPhone.
Music. Background sound can add to the film's overall feel and make it more engaging for viewers. You can choose audio from within the editing app or import from external sources, namely iTunes or Apple Music.
Transitions. Transition facilitates a seamless switch between clips to ensure your video looks professional. Most video editors for iOS offer various switching effects, like fades, wipes, and dissolves.
Filters. Applying filters is a good approach to give a style or mood to your videos without adjusting color balance or exposure levels. Filters are available in most apps that allow to edit video on iPhone and can be applied with just one click!
How to edit videos on iPhone: Conclusion
Editing videos on iPhone should be an easy and fun process. Therefore, finding a video editing platform or software that works best for you is important. While looking for the best free video editing app for iPhone, try the default application, an online video editor, or a popular app. By following the steps in the above guides, you will be able to operate all the editors and craft remarkable videos with minimal effort.
Other articles you may find interesting
If you are editing a clip in order to upload it to TikTok, make sure the content has the right video dimensions for TikTok.
As you look for ways to share your files, be it a work project or a creative production, check out the 4 methods to compress video for email for easy and fast sharing of your videos.