When we record content for social media or capture memorable events, we often have to crop the videos. We may need to remove unnecessary details from the background, or just get a closer look at something or someone we shot. Either way, using a video cropper for that is a perfect way of polishing media content. In this article we will show you how to crop a video online and tell you more about the video aspect ratio.
How to crop a video in your browser
There's no need to learn several ways to crop a video on Windows, Mac, Android or on iPhone if you have an online video cropper. You can open it in any browser such as Google Chrome, Opera, Safari, Mozilla Firefox or Edge. Your steps to cut video are:
Go to the "Crop video" tool.
Upload your video using the Add File button or simply drag and drop it.
Select an area to be cropped manually, choose one of the preset dimensions, or type in the desired width and height. Learn about video aspect ratio below.
Click "Export" and get your output video.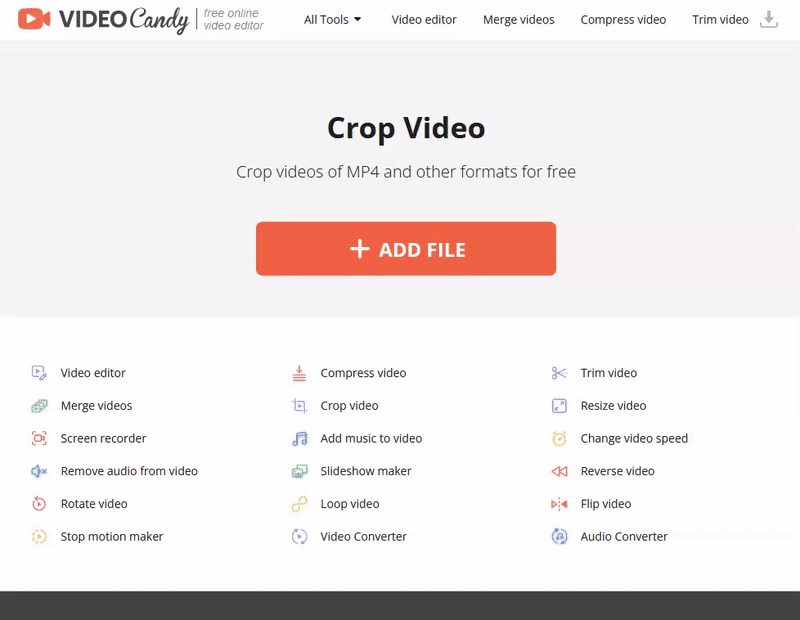 Use the preview player to check whether you are satisfied with the results of cropping video. If not, click "Back to editing" to carry on choosing your perfect video size. You can also continue editing your video with other tools or start over.
Video Ratio - what's the difference?
Choosing an aspect ratio for your media depends on how you plan to use the video. If you want to post it in Instagram, TikTok, or make shorts for YouTube, you need to understand which ratio is most beneficial. Here are some explanation on the ratio:
16:9 is the most popular type of horizontal video ratio. It is 16 inches (40.64 cm) wide and 9 inches (22.86 cm) long. This file format is also known as widescreen. This combination provides the best viewing experience. The 16:9 format is the best option to crop video for all professional content. It is the preferred format on YouTube. Use it to avoid automatically adding black bars to the sides of the video.
9:16 The exact opposite of 16:9, it is used for so-called "tall videos". It has recently become the most trendy format due to the proliferation of social platforms. All Tiktok videos, YouTube shorts and Instagram reels are predominantly posted in this format.
1:1 or "square" aspect ratio, not used as much these days. 1:1 means that all videos recorded using this ratio will have the same dimensions. You can find this ratio in posts on Facebook, Pinterest, Twitter or Instagram.
4:3 the ratio of older televisions and monitors. The 4:3 video format has been used in the film and television industry for several decades. The format is used for editing video in analog formats (VHS) and some digital ones. Not used in modern social networks.
5:4 extremely rare ratio that was popular among photographers.
4:5 is the latest addition to the video sphere. Vertical cropped videos, popularized by Instagram, are ideal for social networks because they take up more screen space and attract more viewers.
Why it's advantageous to crop video online?
Here are a few aspects that will show you why it's better to cut videos with an online video cropper:
High speed of uploading and downloading videos;
Ability to crop video by hand;
Fully autonomy - all you need is only Internet connection and device;
Provided with step-by-step instruction on how to crop a video;
More video editing tools to improve your video in various ways.
How to crop a video: final words
Now you know how to easily and quickly cut video and change the video aspect ratio online. Undeniable advantage is that you can not only resize your content, but also manually crop video to any size and ratio. Imagine you are a new blogger just starting out. At this point, you are not ready to spend a lot of money to buy expensive software. But you are full of enthusiasm to create and share your creativity with the community. In this situation, the ability to cut video and edit it instantly online is the way out.
Additional ways to make your video content stand out: