Understanding how to flip a video on iPhone can be very useful in many situations. Whether it is for practical reasons or for creative purposes, being able to mirror videos will help ensure that your recordings look the way you want them to. With this simple guide, you will learn 4 different ways to flip iPhone videos. This can be particularly helpful for people who like to record videos on their iPhones and then share them with friends, and family, or even upload them to the internet.
1. Flipping videos on iPhone online
Did you know you can mirror your videos quickly and without any additional apps? All you need is the online video flipper. Video Candy has got you covered. Read the detailed instructions below.
Open the video flipping tool in Safari or any other browser of your choice.
Select the video you want to flip by tapping the "+ Add File" button.
Choose how you want to invert your video - horizontally or vertically.
Then tap "Export" for flipping video orientation.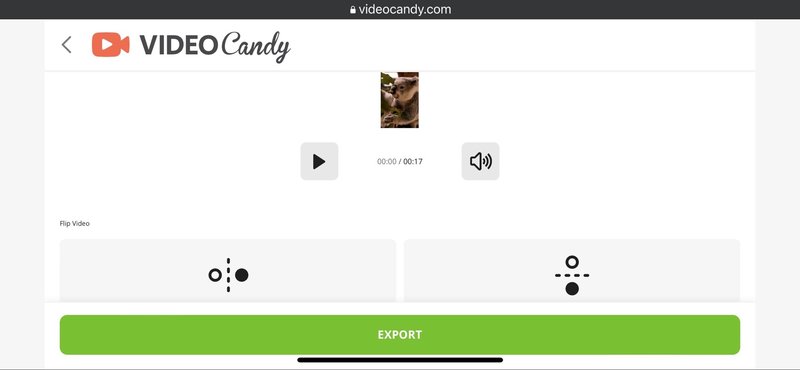 Now you can preview the result, download it, or continue editing with the additional instruments the website offers. For example, you can edit video on your iPhone or compress video for email.
Using the web-based tool to flip iPhone videos is beneficial for several reasons.
Video mirroring tool that requires no prior knowledge of video editing.
No software download is needed.
Supports all major video formats, including HEVC, MP4, MOV, AVI, MKV, and WebM.
Compatible with all iPhone models - Pro, ProMax, Plus, Mini, SE.
Above all, the online video flipper has several other helpful features such as trimming, cropping, and adding text to your clips that make creating stunning videos even easier. Overall, if you are looking for a simple way to flip a video on iPhone quickly and easily, then the online service is definitely worth checking out!
2. How to invert a video on an iPhone with Photos
Flipping a video can be a great way to add some creative flair to your home movies. Luckily, it is quite easy to do on your iPhone using the built-in Photos app. Here is how:
Open the Photos app and find the video you plan to mirror.
Tap the "Edit" option in the top right corner.
Locate and select the icon indicating rotation.
In the top left corner click the figure corresponding to flipping.
And just like that with a few taps, you learned how to mirror a video on iPhone. This tool of the generic app for photo viewing is extremely useful when taking videos with your frontal camera.
Pros:
Ability to flip iPhone videos instantly with this preinstalled app.
Designed specifically for iPhones.
Cons:
You are only able to flip your video horizontally. No vertical invention available.
Location of the video mirroring tool is not intuitive. You need to know exactly where to find it.
3. Flipping video's orientation on iPhone with InShot
InShot is a video editing app that supports the flipping feature. The editor has a free version that can be obtained from the App Store. Below is the guide on how to mirror a video on iPhone using this app:
Download and open the app.
Choose the "Create New" button.
Pick the video you need to flip.
Tap the "Flip" icon on the toolbar.
This application provides a user-friendly interface and offers a wide range of video editing features. It is an easy method for flipping videos on iPhone horizontally.
Pros:
Simple and comprehensive interface.
Has many other instruments in addition to the video flipper.
Cons:
Only allows flipping the video horizontally.
Video mirroring tool adds a watermark on your video in the free version.
Ads appear as you flip your video.
4. How to flip a video on iPhone using Canva
Flipping a video on iPhone with Canva is a good way to turn your video upside down or from right to left and vice versa. Follow these easy steps to flip an iPhone video using this editor:
Download the app on your phone.
Open the app, tap the "+" button, and tap "Mobile Video".
Select the video that you wish to flip by using the "Uploads" option.
Adjust the sizing of the video to the size of the page.
Find the instrument "Flip" and choose horizontal or vertical flipping video orientation.
Now you can save the video or continue editing it.
Pros:
Effortless and straightforward video flipper.
Save or share videos directly from the app.
Cons:
Must have an account to use the tool.
Have to manually resize the video and adjust its positioning on the page.
Why do you need to know how to flip a video on iPhone?
Some users may question why would you ever want to know how to invert a video on iPhone. Look at just a few reasons why you need to have a video flipping tool handy:
To represent the recording in the true orientation if it was recorded with the frontal camera.
To add unique touch as you create a music video or a family film.
To reuse the flipped clip to avoid repetition of the same shot.
Conclusion
In conclusion, flipping videos on iPhone is not difficult. Choose the service or an app that fits best the needs you have for video editing. Playing with a video flipper on your iPhone can be fun and creative. With the video mirroring tool, you will be able to produce a one-of-a-kind video or adjust mistakes taken during filming!