Merging videos is the first and essential video editing skill. Knowing how to combine videos on an iPhone is useful in the mobile-driven world. With this ability, you will be able to convey your creativity and excitement into your videos created on a phone. Overall, combining videos on iPhone effectively is a valuable skill for anyone who wants to craft interesting and engaging content without the necessity to use a PC. This article will show you 4 ways to merge your videos on your iPhone. With detailed guides and throughout the description of each, you definitely will find one that works best for you.
1. How to combine videos on iPhone for free online
Producing a stunning video on an iPhone can be easy and fun! Did we say that you also won't need to download any new apps to your iPhone? Video Candy is a web-based service that offers to combine your videos online. To create remarkable visual stories, follow the guide below:
Open the online video merger in Safari or other browser on your iPhone.
Tap "+ Add file(s)" to begin creating your video montage. Pick videos you desire to join together from your library and insert them into the project.
Arrange the videos in the timeline according to your desired order.
To further customize your final video, apply background music and a fade-to-black transition. Adjust the video ratio (16:9, 9:16, 1:1, 4:3, 3:4, 5:4, 4:5) and fit size (black, blurred, or no bars).
Once you are happy with your project, hit "Export" to generate your combined video.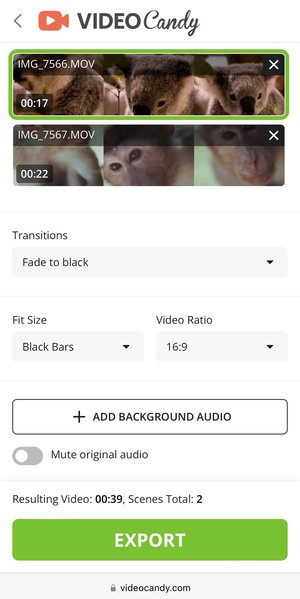 The option to combine videos online on your iPhone can help you make creative projects, share memories, and save space on your device! Video Candy offers a powerful instrument to produce stunning videos!
Pros:
Free user-friendly video combiner for online work.
Does not require storage capacity as operated completely online.
Compatible with various models of Apple phones: Pro, ProMax, Plus, Mini, and SE.
Works on all modern browsers - Safari, Firefox, Google Chrome, and others.
Lets combine videos on iPhone in different formats - HEIC, AVI, MP4, MOV, and more.
Contains supplementary tools for further editing, such as mute or compress a video, and more.
Merging videos on iPhone online is simple and intuitive. With this platform, you can turn any ordinary video into a cinematic masterpiece! All you need is an Internet connection and your phone with any browser open. Plus, it is free to use so you get a chance to make as many projects as you like without spending a penny!
2. Can you combine videos on iPhone using iMovie?
If you are using an iPhone for a while, you know that you already have this basic video editing application preinstalled on your phone. And you can use this program to start learning how to merge two videos on iPhone. Here is the instruction to do so:
Launch the app and select the "Movie" project.
Add your videos to the project. Hit "Create Movie".
Arrange the clips on the timeline in the order you wish them to follow.
Click "Done" to proceed to export your file or continue editing your video by applying the effects available, such as changing speed or choosing a piece of background music.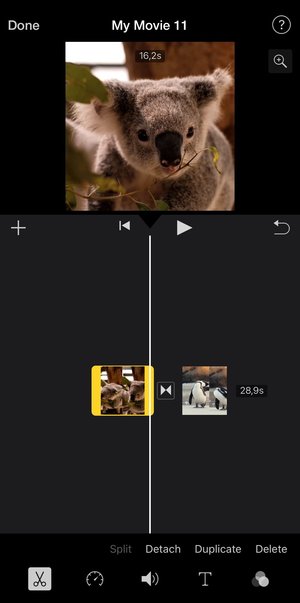 Following these steps, you will merge videos on an iPhone quickly and without having to look for third-party applications. This app is a good tool to begin with, although it does have its pros and cons.
Pros:
Default Apple application for combining videos on iPhone.
Capacity to share your video directly from the app.
Cons:
At first, may be confusing to find the "Save" or "Export" buttons.
Requires a minimum of 25 GB of free storage to run flawlessly.
The ability to merge videos on iPhone allows you to compile multiple perspectives into a single video. For example, if you are recording an event or activity, you could combine different angles and points of view into one video. This can give people a better sense of what happened and help them understand more about the context. Moreover, if you add background music to your video, your content will become more engaging.
3. How to combine two videos on iPhone with Video Merger
This application was specifically designed for merging clips on iOS. It has a straightforward interface and an unpaid usage allowance. Here is how you can utilize the Video Merger app to join your videos on an iPhone.
To start, download the program from the App Store.
Open the application and click"+" to add videos to start editing. Choose from your camera roll, or shoot new videos within the software.
Arrange videos in the desired order and hit the export icon in the bottom right corner.
Select the option "Finalize + Export".
In just a few steps, your video is prepared to download! Now you only need to decide how you would like to distribute it - via email, social media, or messaging apps. Enjoy your newly combined video!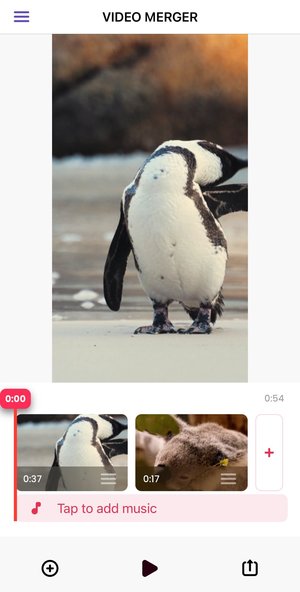 Pros:
Designed specifically for merging videos on iPhone. No other options are offered.
Paid app with the 7-day trial.
Cons:
Free version exports your final video with a watermark.
Despite requiring paid access to use some of the instruments, this application still offers you to try its functionality before you commit to a subscription. You are able to trim your video or rotate it, for example. Consider exploring the whole range of tools with a 7-day trial period.
4. How to join videos on iPhone using Vixer
Joining several videos into a unified clip can be done easily and quickly on an iPhone with the help of the Vixer app. It provides various instruments, including the instrument to combine videos on iPhone. Below is the instruction for using this software:
Install the application on your iPhone.
Hit "+ New Project" to begin merging.
Select the videos to merge from the camera roll. Click "Next". Tap and hold the clip if you want to relocate it on the timeline.
When satisfied with the result, locate the export icon in the top right corner. Choose the resolution and select the method to export the file.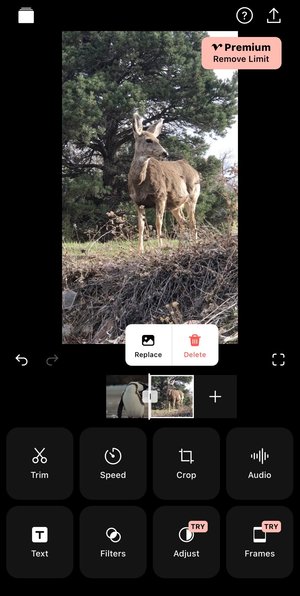 With this program, you will learn how to combine two videos on iPhone in a simple manner. Moreover, within the app, you can change the video speed or crop it. All of these will help you create amazing content for social media or just for fun. Yet, it does have a downside.
Pros:
A video editor with additional features.
Cons:
The merging tool is a part of the premium subscription.
Combining videos on iPhone is useful for creating highlight reels or recaps of events or experiences. With Vixer, you can easily merge several clips into a single video that captures all the important moments and information in an easy-to-digest format. Explore this application for free and decide if you would like to purchase full access.
How to combine videos on iPhone: conclusion
In conclusion, merging videos on an iPhone utilizing an app or a video combiner from online platforms is not hard. With a few simple taps of your fingers, you can join together your iPhone videos in a hassle-free process. This skill is the fundamentals of video editing. Once you master it, begin producing remarkable material with polished results. So go ahead and give it a try each of these tools and pick the one that you like the most!
Other articles you may find interesting
In the era of smartphones, your iPhone can do much more than just calling and scrolling through social media. Discover how to make a slideshow on iPhone or read a guide on how to speed up a video on iOS, to begin with. Use your iOS device to its fullest capacity!