An online video editor is a great alternative to downloadable software or a mobile application to create, edit, and share video content. It is a way to take your videos to the next level and make them look professional. For producing a promotional video for a business or editing a vlog for YouTube, online video editing can be of help.
Editing videos online using Video Candy
This is an intuitive and straightforward free online video editor that allows users to create incredible videos with a mere few clicks. With this simple platform, you can quickly and easily generate remarkable videos. And all with no software download or experience.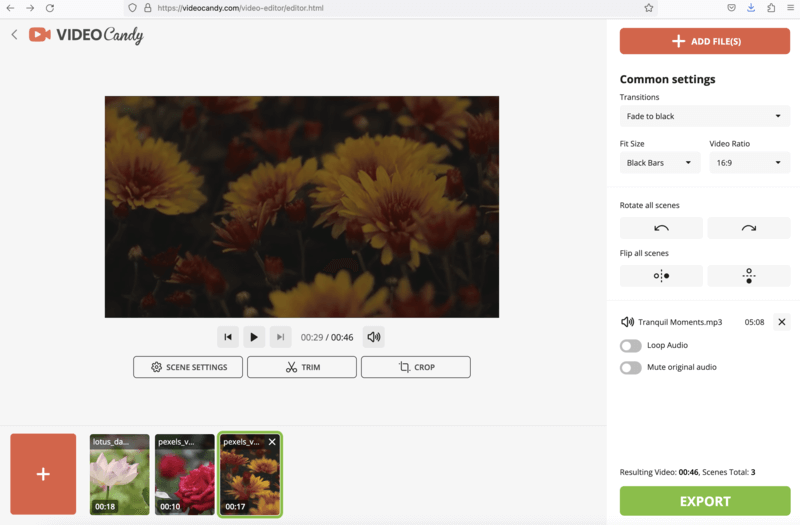 Below you will find information on how to utilize the online video editing service. Furthermore, you will learn about the advantages of a web-based platform, the detailed toolkit, and a few tips for beginners in video production.
How to Use the Free Video Editing Website
Let's examine in detail the tools this free online video editor offers. First, open the Video Editor.
Adding Multiple Files
If you need to edit several videos into one, click the icon "+Add File(s)" in the top right corner.
Trim
Trimming is one of the most essential video editing tools. Select whether you want to extract or remove the segment. You can enter the cut timing or perform adjustments manually from the timeline.
Transitions
To add interest and professionalism to your videos, consider including a transition. Add a fade-to-black transition or leave your edited video without one.
Crop
If the video has extra details around the main subject or you just want to make it a close-up shot, crop your video in the settings. Do it manually or enter the specific values for width and height.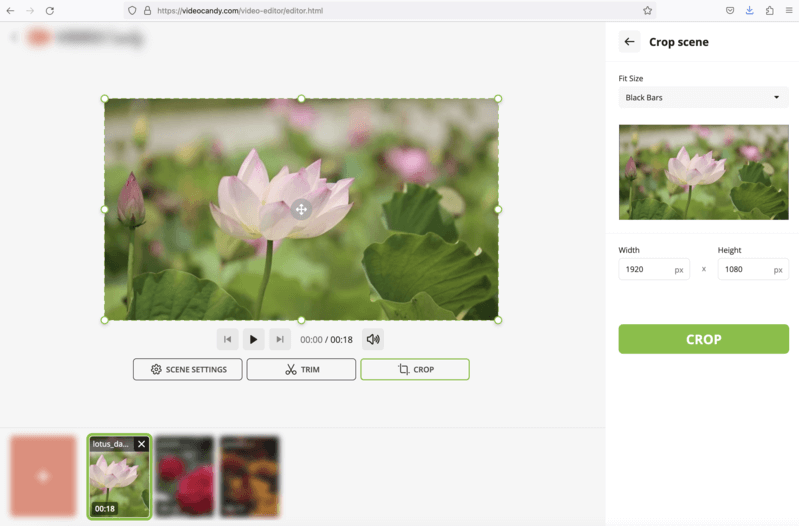 Fit Size
You can also select a fit size and resolution. The options include black bars, blurred bars, or no bars at all. Before settling on one, you can preview how it would look.
Video Ratio
To edit a video online that you later will use on certain social media platforms, you have to set the ratio. Choose what fits you best: 16:9, 9:16, 1:1, 4:3, or 3:4.
Change Speed
In the Scene Settings, you can adjust the video speed. Choose to slow down up to 0.25 or speed up to 5 times faster. In the same menu, you can mute your original video.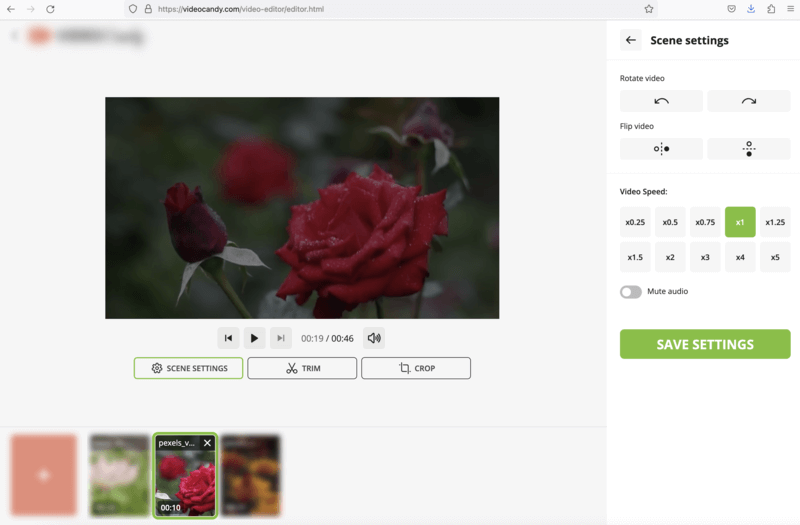 Rotate and Flip
Turn video clips to the left or right, up to 360°. Additionally, you can flip the clip from left to right, from right to left, or upside-down.
Add Background Audio
You may choose to leave the original audio of the video or mute it. Afterward, to bring a unique touch to the final product, add background music or a pre-recorded voice-over.
Advantage to Editing Videos Online
Whether you need to create a professional video or just wish to add some fun to family films, an online video editor is an ideal tool. With its features, anyone, from novices to experts, will produce high-quality videos quickly and easily.
Easy to Use. No prior video editing experience or software downloads are required.
Free Access. Everyone can edit their video online and for free.
Large Capacity. Supports videos of up to 2 GB.
Flexibility. You can resize your videos for any platform, such as YouTube, Facebook, or Instagram, and do not stress about compatibility issues.
High-Quality Output. Get professional quality output with high-resolution videos and beautiful design elements.
Supports All Major Video Formats. You can upload and edit videos in various formats like MP4, MOV, AVI, MKV, and HEVC.
Works on All Phones and PCs. The website is supported by iPhones (Plus, Pro, ProMax, Mini, SE), phones with Android operating system, iMac, MacBook Pro, and Air, and Windows-based desktops and laptops.
Does not Take Up Storage. Since this is an online video editing service, no memory is taken to store the toolkit.
It comes with a user-friendly interface which makes it simple to operate even for beginners. Editing videos on the go was never easier!
Additional Features of the Online Video Editor
The free online video editor Video Candy provides supplementary instruments for further modifications of your clips.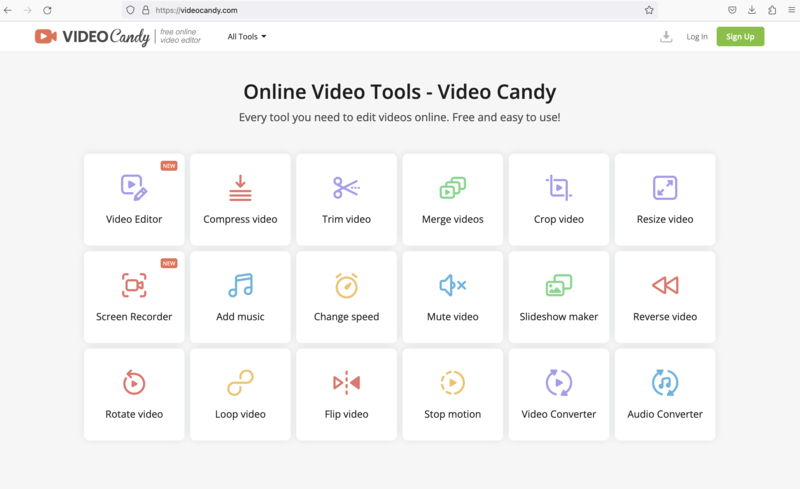 Compress Video
Compressing video files is an effective way to conserve space and shorten upload times when editing videos online. The video editing website allows you to effortlessly compress videos in no time. This can result in a good quality video with less file size.
Stop Motion
Want to add an extra artistic flair to your video? Create mini-movies utilizing the stop motion technique to enhance the visuals by varying the speed of certain segments. Add some drama to your next video project, and show off your creativity.
Loop and Reverse Video
Using an online video editor, you can easily loop videos. For example, for an Instagram story. In addition, you may choose to reverse a video that you are editing. This is useful for adding emphasis to a scene or for making the most of short clips.
Screen Recorder and Slideshow Maker
Applications that record your screen help capture and share your work process or create training materials. You can document what is happening on your screen with a single click. With the help of the same video editing service trim or crop the video, compress it, and share it with your colleagues or students.
To present your work samples or create an engaging slideshow with pictures from a family vacation, use the slide show maker. It will help you quickly assemble a video out of your images, allowing you to insert background music for special emphasis.
Video and Audio Converters
Converters are essential tools when it comes to editing your videos online. They let you convert files into the desired format, making them easier to work with. The video converter offers to convert options of MKV to MP4, MOV to MP4, Webm to MP4, Video to GIF, Video to MP3, and more. The audio converter will allow you to transform MP3 to WAV, WAV to MP3, M4A to MP3, OGG to MP3, and MP3 to MP4.
Online Video Editor: Conclusion
Being able to edit a video online and for free could be a superb way to develop professionally-looking videos. Planning the storyboard beforehand, and paying attention to details such as speed, background audio, transitions, and other elements is crucial. With a bit of practice and some patience, anyone can master the basics of online video editing.
For those who want to take their videos a step further but do not plan to invest in expensive software, online video editors offer a great alternative. You will be able to produce a one-of-a-kind film and easily share the projects with family and friends or post them online.
Other articles you may find interesting
As you continue to develop your video editing skills, you will surely want to share your work with others. Someone may not have a social media account to see your production. Consider reading our article 4 Ways How to Compress a Video for Email to reach that audience as well.
For beginners of social media blogging, we have a useful guide to understanding the TikTok video size. Learn more about the popular video-sharing website and begin creating your own clips with the free online video editor!