With the recent increase in Discord's upload limit from 8MB to 25MB, it has become easier to share videos with your friends and family. However, sometimes 25MB may not be enough. That's where a video compressor for Discord comes in.
In this article, we'll take a look at the best options that will help you to compress video files before sharing them on Discord.
Online Video Compressors
Let's start with the easier option - online video size reducers. They can be used on any device, work faster and often offer other tools to customize and edit the output file.
1. Compress video for Discord with Video Candy
If you're looking to share clips on Discord but need to reduce the size of video, Video Candy is the perfect solution. This online video compressor allows you to quickly and easily shrink your video files for Discord without sacrificing quality much. Just upload your file, wait for the compression to finish and save the reduced one. It's that easy!
Plus, it supports a wide range of formats, so you can compress any video file with ease. MKV, WebM, AVI, MP4 and MOV and other formats are supported. With this video size reducer, you can easily make sure that your videos are the right size for Discord and still look amazing. So don't wait any longer - give this Discord video compressor a try and see how easy it is to share videos!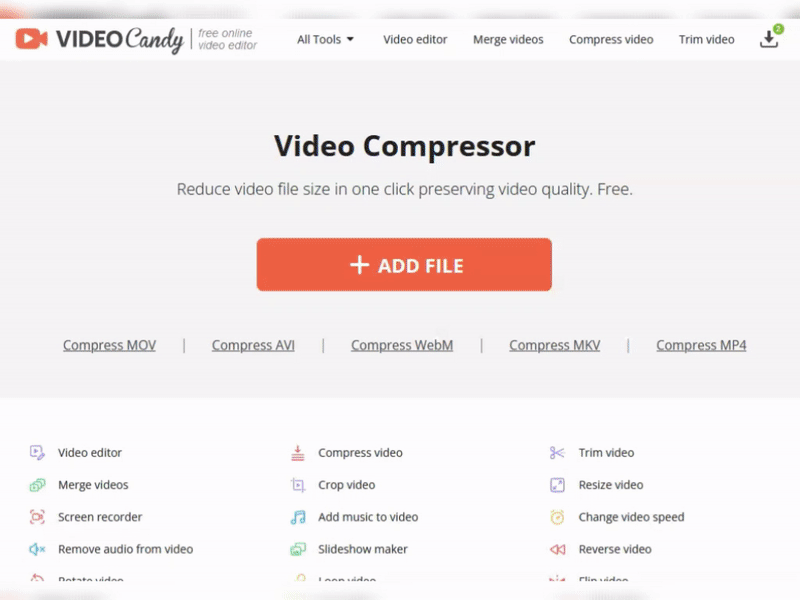 Advantages
With the automation of the compression process, you can reduce size of most videos in a matter of seconds.
You can preview the changes before downloading the file to make sure the video looks great when it's uploaded to Discord.
It offers compatibility with a variety of video formats, including MKV, OGG, FLV and 3GP.
There is a variety of other tools available, including an online video editor.
2. Reduce video file size with VideoSmaller
VideoSmaller is an online video size reduces that allows you to compress video files for Discord. It can shrink a video file up to 20 times its original size, making it easy to share large files on Discord without worries.
VideoSmaller also supports a variety of popular video formats. Therefore, you can easily compress MP4, MOV, MKV AVI and other video files before uploading them on Discord.
Advantages
The user-friendly interface of this service makes it simple to compress your video for Discord.
Once you're done compressing your video file, VideoSmaller will provide you with a link to download it or share it directly on Discord.
VideoSmaller also offers advanced settings to customize the compression to fit your needs (bitrate, resolution, FPS, etc.).
Disadvantages
VideoSmaller does not have any video editing features. It is difficult to edit a video before compressing it for Discord.
The service is limited in terms of output formats, restricting you to the choices available on the site.
There is no way to preview the video before or after compressing it. So you cannot be sure how much quality was lost in the process.
3. Online File Compressor by CloudPresso
CloudPresso is an excellent video compressor for Discord. It can reduce the size of your videos by up to 90%, making them easier to upload and share. It is a cloud-based solution, meaning that it does not require any additional software or hardware and is incredibly easy to use. Can be used to compress videos on iPhone, Android, Windows or Mac.
It also ensures that your videos remain high-quality, even after compression. CloudPresso is equipped to accommodate most widely used file formats and resolutions. This makes it possible for you to shrink any video format into a more manageable size.
Advantages
Reduce video file size by using multiple compression settings optimized for specific purposes.
Intuitive user interface with real-time video preview.
CloudPresso also offers advanced features like batch processing and support for various audio codecs.
Disadvantages
CloudPresso does not provide any tools or features to optimize your video files specifically for Discord.
The compression technology of this service may be insufficient for videos with high resolution or frames rates.
CloudPresso is not as fast as some other services to compress video files for discord.
4. Compress MP4 and other formats with Aconvert.com
Aconvert is a free online file conversion tool that can help you compress video files for Discord. It supports up to 500 formats, including popular video and audio oness such as MP4, MOV, AVI, WMV, FLV, MP3, WAV, etc.
You have the option of choosing from a variety of compression presets or adjusting the output settings manually to meet your requirements. It also supports batch processing so multiple files can be compressed at once. Additionally, it provides advanced options such as adding watermark or subtitle to the video and splitting content into segments.
Advantages
Aconvert is a powerful, online video compressor that enables you to quickly and effortlessly reduce the video file size for use on Discord.
It has a simple user-interface, allowing to easily adjust the output resolution, bitrate, and frame rate.
Platform also allows you to add audio tracks to your compressed videos if needed.
Disadvantages
It does not offer any specific preset settings or functions for compressing videos for Discord. The users will need to manually configure settings to achieve the desired compression results.
Aconvert is not specifically designed to compress video for Discord, so it may not be able to offer the best quality and size ratio.
The service does not provide quality assurance or guarantee that the compressed video file will be compatible with Discord.
Offline Discord Video Compressors
Let's continue with the software that can compress video for Discord. Such software offers an alternative solution to online video compressors for those who are looking for more security and control.
1. Use HandBrake as a video compressor for Discord
HandBrake is a free, open-source video compressor and transcode tool. It is available on macOS, Windows and Linux and is suitable for compressing video files for Discord. You can use it to decrease the video file size of your file while maintaining the quality of the original video.
Handbrake is easy to use and provides a wide range of settings for customizing your video compression. It also supports several popular video formats and codecs, such as MP4, MKV, H.264, HEVC, and more.
Advantages
HandBrake is an open-source, free and user-friendly program that can be easily customized.
Its compatibility with multiple operating systems makes it available to everyone;
The program is also capable of batch processing, allowing you to compress multiple videos at once.
Disadvantages
HandBrake does not have any built-in Discord video compressor, so you may need to manually adjust the output parameters;
The interface of HandBrake is not particularly user friendly, so it can take more time to become familiar with the program;
The software does not support hardware acceleration. This means that your video may take longer to compress as it will be processed by the processor.
2. Compress video for Discord using VideoProc
VideoProc is a powerful video processing tool designed for both Windows and Mac users. It can be used to reduce video files size for Discord in various ways: by adjusting the bit rate, resolution, and frame rate; trimming or cropping videos; converting videos to different formats; applying effects and filters; etc.
Its GPU acceleration technology helps to speed up the processing time. With this program you can easily compress video files for Discord without quality loss.
Advantages
High compression rate: VideoProc can shrink videos to a very small size.
Supports multiple formats: This program has the capability to handle a variety of video and audio formats (MP4, MOV, AVI, WMV, MKV, FLV, etc.).
Preserving original quality: it also allows you to adjust the video resolution, bit rate and frame rate, enabling you to preserve the original quality of the video while reducing its file size.
Disadvantages
VideoProc does not offer any special features to compress video files for Discord.
It may not support all video codecs used by Discord.
The output file size may be larger than necessary, resulting in a slower upload time and decreased quality.
VideoProc - One-Stop Video Software
3. Reduce video size with FFmpeg
FFmpeg is a great tool when you need to compress video file for Discord, as it offers different options for tweaking and optimizing the video size and quality. To use it for video compression, you will need to pass two arguments to the FFmpeg command line: one that defines the output format, and one to specify the bitrate.
Depending on the desired quality and file size, you can adjust the bitrate accordingly. You can also utilize more advanced options to further personalize video compressing through the software. Once you have compressed your video, you can upload it directly to Discord.
Advantages
FFmpeg is a free and open-source program, making it more accessible over other video compressors.
It provides support for various audio and video formats, giving users more flexibility when compressing videos for discord.
The program is highly configurable, so advanced users can tweak settings to get the best possible quality for their videos.
Disadvantages
Limited support for certain formats: FFmpeg does not support all types of video formats, so some files may not be compatible with Discord.
Lack of user friendly interface: FFmpeg is a command line tool which can make it difficult for inexperienced users to use and understand.
Loss of quality: Sometimes when using FFmpeg to compress videos, the resulting file may have a noticeable decrease in quality due to the compression process.
4. XMedia Recode file compressor
XMedia Recode is an outstanding video compressor for Discord. This can help reduce the size of your video files without compromising on quality, making them more convenient to upload and share on Discord.
The video file compressor also has a built-in conversion tool that allows you to convert your videos into different formats, allowing you to share different types of videos with different people. Moreover, it can be utilized to modify the sound and video quality of your media for ideal execution on discord.
Advantages
XMedia Recode offers a freeware video converter with an easy to use user interface.
The program allows you to save the video in various formats such as MP4, AVI, and WMV, which are all supported by Discord.
XMedia Recode can reduce the file size of video without losing its quality much.
Disadvantages
Low Quality Output: XMedia Recode has limited video compression settings, so it may not provide the highest video output quality.
Limited Format Support: The program only supports a limited number of video formats for compression, so not all files may be compatible.
Slow Compression: XMedia Recode is slower than other video compressors and can take a long time to complete the process.
Final Thoughts on Finding the Best Video Compressor for Discord
Overall, it is important to consider the following points: the source of the file, the size and format of the compressed file, as well as the ease of use of the Discord video compressor. There are many online and offline compressors available for this messenger's users to choose from. There are a variety of offline and online video compressors available, each with its own pros and cons. Ultimately, selecting the best way to compress video for Discord will depend on your unique requirements and preferences.
Try other video tools available
Trim the video before compressing to get rid of all unnecessary parts.
Change speed of your in-game clips, so your friends could catch your MVP performance.
Create a GIF of your gaming experience.