Grasping the technique of how to compress a video on Android can be extremely beneficial for those who require to conserve space, share files promptly, or diminish file size for other motives. Shrinking a video on a smartphone can significantly lessen its size without affecting the quality of the file. This facilitates much easier storing videos on your device or uploading them to the internet. With the aid of an Android-compatible web app, you can compress videos easily in just a few clicks. But what video downsizer to choose? Let's observe 7 best online compressing options for Android.
1. Compress Video Online with Video Candy
Reducing video file size on Android by means of the tool is quick and straightforward. This video compression method is preferable because it doesn't just reduce the size, but also optimizes the video quality while keeping the resolution intact. Follow these steps:
Open the Video Compressor on your Android device in any browser.
Click the "+ Add File" button to upload video. You can take it from your gallery or create a new video that will be uploaded as soon as you finish recording. To do this, select the camera icon. Note that you are limited to 10 minutes of video.
The compression will start automatically. If you are satisfied with the preview result, you can simply download it or open in video editor for further editing.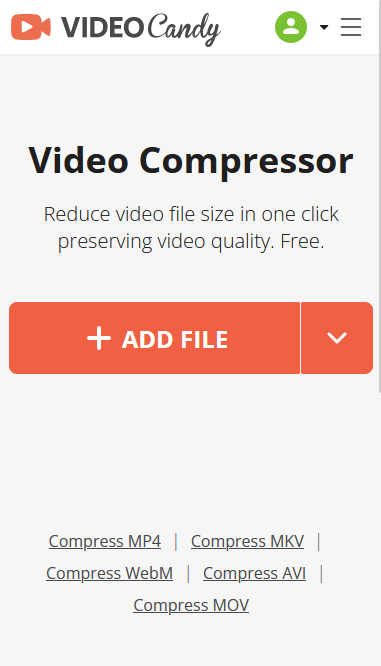 Pros
Online service for compressing video files on Android provides many advantages:
The ability to save storage space by decreasing the file size yet keeping quality;
Easy sharing of videos after compression since they occupy minimal space or bandwidth when sent over networks;
The capacity to edit videos before compressing them, such as adding audio, transitions, filters, and more;
Compatibility with all Android versions including Upside Down Cake, Tiramisu, Oreo, Red Velvet Cake, and others;
Supported by most popular browsers as Mozilla, Chrome, Edge, and so on;
Works with any popular video format like MKV, AVI, MOB, WebM, etc.
Compressing videos on Android doesn't have to be complicated if you use a good compressor app. Give it a try and see how much space you can save on your phone!
2. Shrink Video File Size on Android With Clideo
Producing smaller versions of videos on Android is doable with the no-cost video downsizer from Clideo. It's a straitforward way of compressing video files without losing quality.This video editing suite allows you to optimize the quality of your material without having to know how to add specific filters and effects.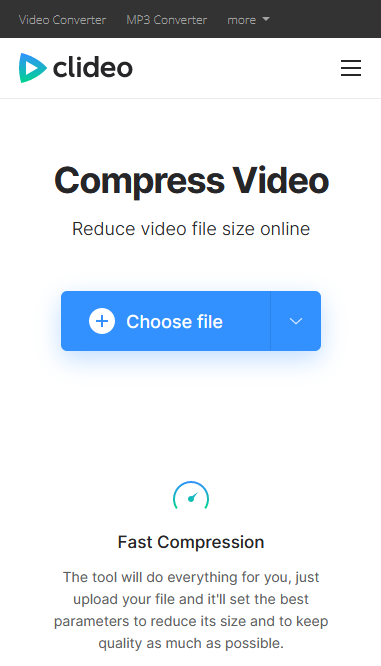 Pros:
Online video compressor supports all major formats;
Presents high-quality compression;
Displays the percentage of file reduction.
Cons:
The uploading process is quite long;
To get rid of watermark you need to buy a pro account;
Visitors are limited to 500 Mb video.
In summary, Clideo provides a fantastic solution for reducing video file size on Android devices. It's easy to use, fast and offers excellent compression in a variety of formats. Nonetheless, there are impediments regarding compatibility and speed when handling large files.
3. Kapwing Android Video Compressor
Compressing video files on gadgets with Android OS can prove to be arduous. But with the help of Kapwing, you can easily compress video online from your phone or tablet. It offers numerous utilities and functions for producing and customizing digital objects, such as video editing, meme generators, image resizing, subtitling and more.
Pros:
You can adjust the video resolution and output format while you compress video online;
You can also trim and crop your video prior to compression;
It is possible to pick video compression level.
Cons:
The compression process may take some time as firstly you are directed to the Editor;
It can be difficult to produce accurate modifications to the video clarity and size online;
The output video quality does not reach the same level as with other video compressors;
You are limited to 250MB and 7 minutes of video with a free plan.
Altogether, Kapwing is the perfect choice if you're looking for a costless and effortless option. Just keep in mind that it's not always the best way for getting the highest-quality result, especially for larger files.
4. How to Decrease Video File Size with Veed.io
Veed.io is a video size reducer for Android that helps you decrease videos swiftly and effortlessly. It permits you to downsize the magnitude of your videos without spoiling the quality. Its intuitive design makes it simple to navigate, so you don't need any previous editing skills or knowledge. Take your video creation process to the next level with advanced tools such as color auto-correction, recording voice-overs, object detection and tracking.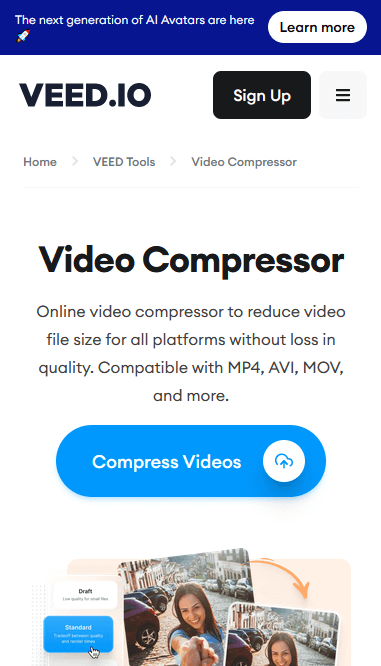 Pros:
Basic and advanced video compression settings are accessible;
You can choose quality, resolution, mode, bitrate, and framerate;
Shows the estimated compression time.
Cons:
Watermark for videos under 10 minutes;
For unlimited projects you need to pay.
Compressing video files on Android with Veed.io is a straightforward process that quickly releases storage space and ensures your videos are ready to share or upload in no time.
5. FreeConvert Video Downsizer
FreeConvent is a user-friendly service to compress video online permits users to swiftly and easily reduce video sizes through some basic steps. The minute counter is an indication of the amount of time it takes to convert your files. As a rule of thumb, photos will take about a minute to convert. Video files or advanced codecs will take longer.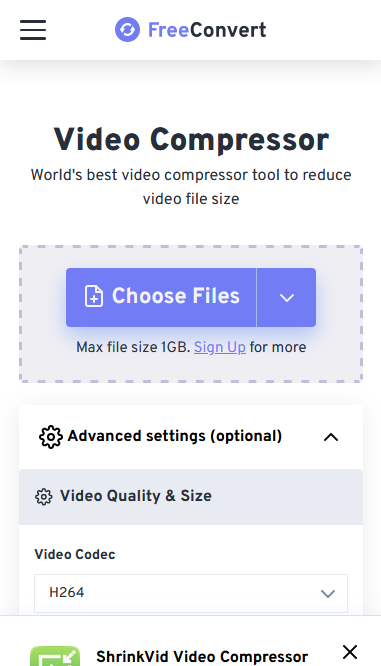 Pros:
Max file size for free is 1 GB;
Ability to select video codec, compression method, and output video format;
Has the option for making video compatible with older phones.
Cons:
25 conversions per day;
Cannot export to Google Drive or Dropbox.
Overall, FreeConvent is a great tool for compressing videos on Android. It is boasting a variety of characteristics that make it straightforward to shrink the file size. However, it may not be suitable for everyone, as some users can find it difficult to learn or experience compatibility issues.
6. How to Lower Video File Size with Compress2go
Compress2go is an app created with the purpose of shrinking videos for Android devices. It offers a range of options and features that can help to compress video online while preserving the quality. The tool allows you to choose the format your files are compressed into, compression level and resulting quality. You can also paste file links and integrate with Dropbox or Google Drive.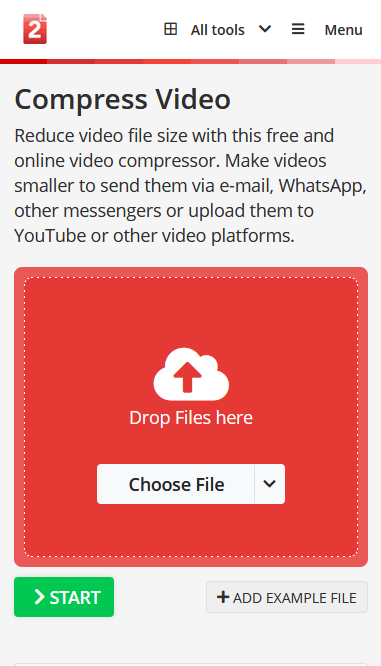 Pros:
User can set file size right in this online video compressor;
To check the process "Add example file" feature is available;
Uploading with URL and cloud storage is possible.
Cons:
Only 100 Mb are for free;
Compressed videos format is MP4.
Finally, Compress2go is another great answer to how to downsize video. It has fewer options than some other apps but still keeps good-quality results and is usable by both novices and experts. with ease by beginners as well as experts.
7. Reducing Video File Size By Youcompress
Video compression on Android can be a hassle. But with the Youcompress, it's easier than ever! It will automatically start compressing your video and then send you a link to download the resulting file. The problem with YouCompress is that you don't have much control over the actual compression rate.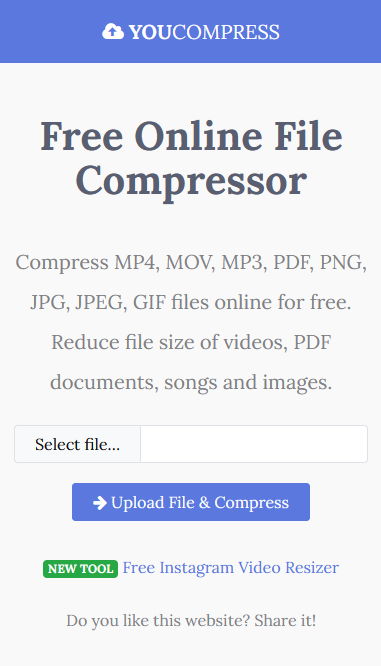 Pros:
Video compressor with a user-friendly interface;
Compress videos rapidly compared to other apps in the market;
No limits on the number of files and no watermark.
Cons:
Supports only MP4, MOV and AVI files;
No compressing options.
The video downsizer is a superb method to reduce videos on Android without spending a cent! With this plain app, anyone can easily reduce the size of their videos without sacrificing quality or losing important details in their files.
Why to Use Video Compressor App for Android?
Compressing a video involves the process of reducing the size of a file while preserving its quality. This is done by removing redundant or irrelevant data from the file. By downsizing video, you can save disk space and reduce upload/download times.
Here are an advantages of making use of an Android video size reducer:
Ease of Use: Allow users to quickly and easily compress videos with just a few clicks. Even someone without extensive technical knowledge can use them.
Reduced File Size: Shrink the size of videos without any loss of quality. You can store more content on your device without worrying about occupying too much space.
Speed: Tools are designed to work fast so you won't need to wait long periods of time in order to compress your videos.
Portability: The bulk of compressors enable to save their compressed videos directly onto their devices so they can be taken wherever you go.
Using Android video compressor is the perfect way to ensure you get the most out of your device's storage capabilities.
Compressing Video Files Tips
Make the resolution stay as low as possible while still maintaining good quality.
Keep frame rate low: Lower the frame rate to reduce the file size.
Reduce bitrate: Lower the bitrate of your video to decrease its size.
Convert to different format: Convert your video into a more lightweight format such as MP4 to save space.
Delete original copies: Remove the original, uncompressed copy after you have reduced it to free up storage space on device.
Test results: Check the compressed version of the video before preserving it to guarantee that the quality is acceptable.
Compress Video Online: Final Words
Using an app to compress video files on your Android phone is a great way to swiftly reduce file size without sacrificing quality. We've gone through the steps, from selecting the proper app for the job to adjusting settings for optimal performance.
Now that you have a more comprehensive knowledge of compressing videos on Android, you can confidently experiment with different video formats and effects to get the best results. Try editing and trimming videos on Android, too. Remember, there's no one-size-fits-all solution when it comes to best video compressor app for Android. It's a matter of trying until you find what works best for you.
To sum up, compressing videos on Android cell phones is not only convenient but also immensely useful. It allows you to share files quickly without having to worry about large file sizes or slow uploads. With the right app, parameters, and a bit of trial and error, you can now easily reduce video size on Android gadget!