Knowing how to compress a video on iPhone can be very useful. Apple phones are able to produce high-quality and high-resolution videos that are large in size. Reducing the size of your videos enables you to use less storage for storing and is more convenient to distribute content online. Compressing a video on iPhone is not difficult, but it does involve a few steps. This article presents 4 different video compressing services for iPhone. You can learn about their functionality and choose the one that works best for you.
1. Compress your video on iPhone for free with Video Candy
This online platform offers a fast and convenient way to compress an iPhone video. Working within your browser, you do not need to install any new application on your phone. Simply go to this website and compress a video online. Here is a short instruction to get you started:
Open the online video compressor in any browser on your iPhone. Say, Safari.
Tap the "+ Add File" button to pick the video you aim to compress from your library or camera roll. The system will start compressing your video automatically.
When compression is done, you will see the resulting file size. If you are happy with the outcome, click "Download file" or "Continue Editing" to perform additional manipulations.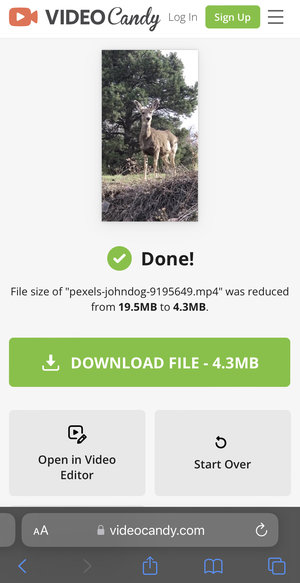 Pros:
Easy to use and straightforward, so even beginners can get up and running quickly.
Video compressor works online and free for all devices.
Supports a wide range of file formats including HEIC, MP4, MOV, AVI, 3GP, WMV, etc., so you can compress any type of video without having to convert it first.
The processing is fast and efficient.
Compatible with any iOS phone: Pro, ProMax, Plus, Mini, and SE.
Works on Safari, Google Chrome, and other browsers.
Able to compress video on iPhone of up to 2 GB.
Stores recently processed videos for two hours.
Ability to further edit your iPhone videos.
With this free online video compressor, you will ensure that your videos will play smoothly when streamed, as larger files can cause stuttering or buffering. Additionally, if you ever need to compress an iPhone video for email or iMessage, compressing the file with Video Candy first will make it easier to do so. Give a try to this website to reduce the video size on your iPhone.
2. How to reduce video size on iPhone with a specialized video compressor
Another way to compress a video on iPhone is the Video Compressor - Save Space application. It is a powerful video compressing tool for iPhones that compresses videos while maintaining excellent quality. This tutorial provides detailed instructions for compressing a video using this app on an iPhone:
Get the app from the App Store.
Open the app and tap the "Compress Video" button to select the video.
Choose the desired output quality parameters and hit "Compress" at the bottom of your screen.
Once finished, hit "Save" to proceed to your compressed video.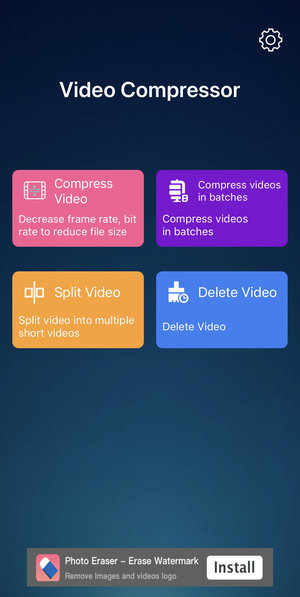 Video compressing is essential for transferring and sharing video content efficiently. It reduces the file size and simplifies the process of storing media without taking up too much space or bandwidth.
Pros:
Video compressing software with free access.
Ability to customize settings.
Cons:
Lists your videos from the oldest to the newest, requiring you to scroll down to find the most recent ones.
Small advertisements around the working area.
Almost no supplementary features.
The app is fast, intuitive, and offers a total command of output size and quality settings. This makes it a great choice for anyone willing to compress an iPhone video quickly and easily.
3. How to make a video file smaller on iPhone: an app with editing functionality
Compressing video files on an iPhone is becoming increasingly popular as people are looking for ways to save their device's storage. Video Compressor - Reduce Size allows users to decrease the size whilst choosing the quality loss level. Below is a guide on how to compress videos with the software:
Download and install the app on your iPhone.
Launch the app and choose the video file for compression and tap "Compress".
When the processing is finished, click the compressed file in the area of "Recent" and hit "Export" if no other adjustments are needed.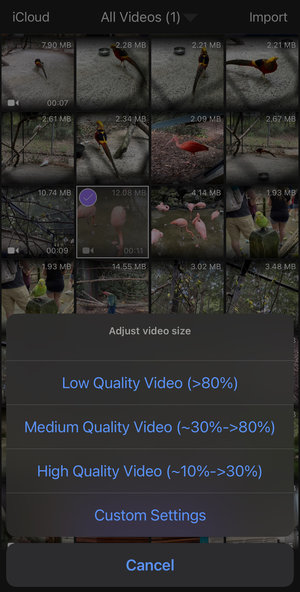 Using this software can assist you in freeing room on your device. To compress your iPhone videos, simply allow the app to access your videos and choose those you wish to reduce in size. With some patience, you will get the desired results.
Pros:
Cons:
Processing takes very long even for small and low-quality videos.
Does not allow sorting your camera roll, making you scroll past photos to find the video you need to compress.
When used as a free online video compressor, adds a watermark on your final video.
Requires iOS 11.0 or later.
You may wonder how to make your iPhone video smaller to share it with friends and family through a messaging service. With the option to choose the quality of the output video, you can determine how much compressing will be done to your initial file. For instance, you do not necessarily need to send a 4K video through Whatsapp or Facebook Messenger. By compressing the video, you can reduce its size to meet the limit imposed by these applications.
4. How to reduce iPhone video file size: batch uploading
If you want to make smaller several videos at once, Compress Videos & Resize Video is an efficient method to do so. This app is straightforward and effective. Here is a comprehensive guide to how to compress a video on iPhone using this program:
Download and open the app.
Tap "Select Videos to Compress" and choose files you desire to compress and click "Next".
Select the settings for the resulting video and hit the "Compress" button.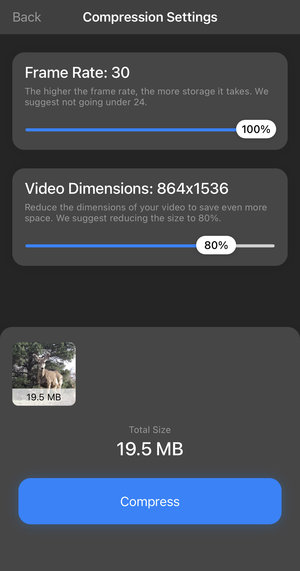 In just a few steps you learned how to compress multiple videos on iPhone. Try the features of the software on one file first to determine whether you would like to purchase unlimited access to compressing videos on iPhone.
Pros:
Intuitive interface with no distractions.
Cons:
You may accidentally delete the original video from the Gallery if not paying enough attention to the system's messages.
You are able to use the video compressor online for free only for 3 compressions, for all others you need to subscribe.
You will have to scroll through the camera roll and see the information to find the compressed video as it saves it with the same metadata as the original.
Requires iOS 11.0 or later.
Altogether, Compress Videos & Resize Video is a promising app that enables users to compress video on iPhone to save memory on the device. Videos with high resolution usually take up more space in terms of file size, which can lead to choppy or distorted playback when streamed online. This software reduces the video size of iPhone files quickly and effectively.
Tips on how to compress a video on iPhone
As you look for ways to have your videos take less memory on your iPhone, consider the following tips that will help you to save storage:
Use an app or a service to compress videos. The apparent method of how to reduce the video size on iPhone is by using a compressor that will perform the task for you. In this way, you will not need to do anything manually and will save all the footage.
Change the video's resolution. With the help of an online video compressor or a compressing application, you can change the resolution of your video. The lower the resolution, the smaller the video size.
Adjust the quality settings for the camera. Check the video recording settings of your phone. You can choose the parameters of the video prior to shooting. This will help create initial videos that are smaller in size.
Trim the video to make it shorter. If your video is long, use a video trimmer to cut the unwanted parts of it that are crucial to the content. Shorter videos occupy less space.
Use a cloud service. Think about utilizing an online platform to keep your files to free the device's memory. To save even storage, compress your iPhone videos first and upload the compressed ones to the cloud.
Share videos via email or messaging apps. The majority of social media platforms compress videos when they are uploaded. You can use the send-to-yourself option to have the website reduce the video size and then download it again to your phone.
Convert your video to a different format. Conversion can also help reduce video size. For instance, MP4 is the smallest format that takes much less space on a device than the standard Apple format HEIC. Consider converting videos before storing them.
How to compress a video on iPhone: conclusion
The ability to compress your iPhone videos offers many benefits such as reducing file size for improved memory capabilities and streamlining transfers for quicker access. It also makes sharing files easier to fit the size limits of messaging apps or email. All of these advantages make compressing videos an essential part of managing your media library on an iPhone. When choosing the method how to compress a video on iPhone keep an eye on the size and resolution of your clip while compressing to ensure a pleasing visual effect for viewers!
Other articles you may find interesting