Video compression is an essential tool for any video creator, from professional filmmakers to amateur YouTubers. It enables you to reduce the video size for faster and easier sharing. With a reliable online video compressor, you will save a lot of time, that is usually spent on opening video files, uploading them to different social medias and so on.
In this article, we will look at the best services that can compress video online that are available today. Let's discuss their features, advantages, and disadvantages in detail.
1. Video Candy - the best online video compressor
Powerful and easy to use service to compress video and even process and edit them further. Suitable for one-time or daily use, as it does not require any investments and installation on a PC. The interface will be understandable even to a novice user. This allows you to immediately start compressing video files without first learning the service.
The platform works with many video formats like MOV, AVI, WebM, MKV, MP4 and others, which makes it a universal tool for video processing. Thanks to the presence of additional tools, the user can easily trim and merge clips, change the size or direction of the video stream, resize the picture or convert the file to another format. Thus, Video Candy is suitable for all users involved in video compression and processing.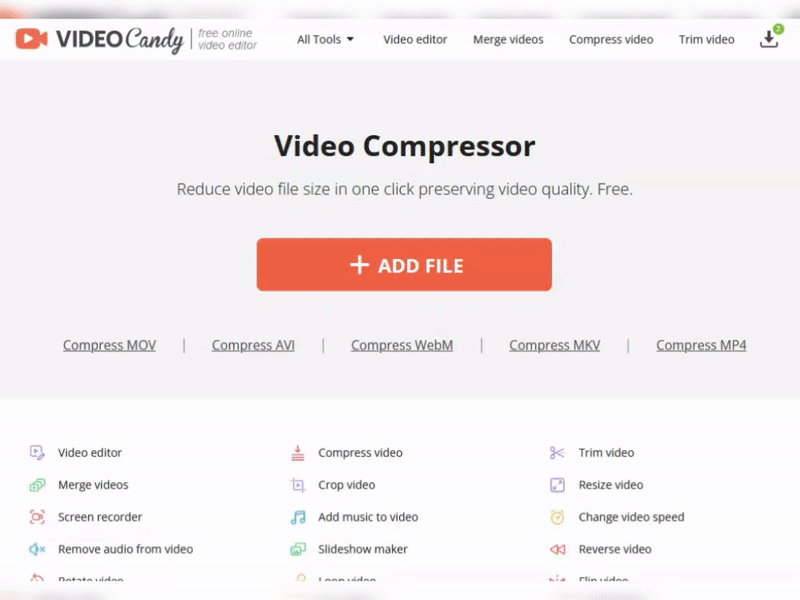 Advantages
Compatibility with all popular video file formats;
Fast data processing due to innovative compression algorithms;
Reduce video file size with almost no quality loss;
Works on all devices, including smartphones and tablets (iPhone, iPad, Microsoft Tablet, Samsung Galaxy Note, etc.);
Only a network connection is required;
Free online video compressor.
Video Candy's Video Compression tool
2. Online MP4 video compressor by Online converter
An effective online video compression tool that will be useful for video bloggers, life hackers, designers, and other users whose activities are related to video data. The platform has an intuitive interface, so it will be clear to all users at first. This will reduce the time to master the file size reducer.
The online video compressor allows you to set the video bitrate and output file size, which is quite convenient. However, if you set it to a very small size, the quality of the picture comes to naught. Therefore, it is worth considering this before you start processing.
Advantages
Simple interface, which does not require learning. All tools and buttons are located in convenient places;
Works exclusively online, thus you can use the video compressor as far away as the network is concerned;
Ability to compress files up to 1 MB;
Ability to upload files from Google Drive and Dropbox cloud resources, as well as with a video link.
Disadvantages
Significant quality loss during compression;
Can only compress MP4 format.
3. Compress videos online using Zamzar
Pretty good video compressor that works in online mode. Thanks to this you can process data at any time. This file reducer has extensive functionality, but it should not be difficult, because all the buttons and controls are intuitive.
The service supports such video formats as AVI, MOV, MP4, which allows you to use it for everyday tasks. The video compression tool is suitable for designers, bloggers, TikTok content creators to compress video files online up to 50 MB.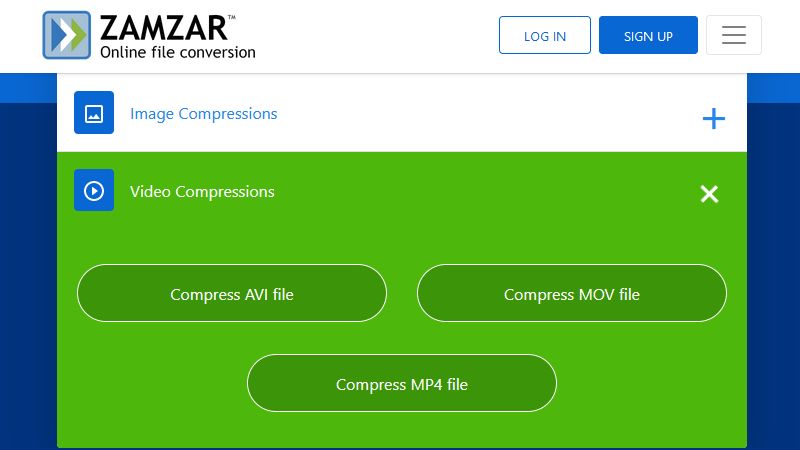 Advantages
Compatible with many popular formats;
Intuitive interface.
Disadvantages
Lengthy time of compression, even for small movies;
The output file will always be in MP4 format;
No integration with cloud resources.
View on zamzar.com
4. Reduce video file size online with Clideo
Pretty nicely designed and feature rich online video compressor. It works in real time, so the user does not need to install additional software on the PC or mobile device. Files can be uploaded directly from physical memory but also from Google Drive, Dropbox, and Google Photo cloud resources.
It is compatible with most popular video formats: you can compress MOV, MP4, AVI, and other. This makes the tool even more versatile. You can use it every day or as needed to make video files smaller. It will suit bloggers, video editors, editors and other professionals whose work is related to video processing.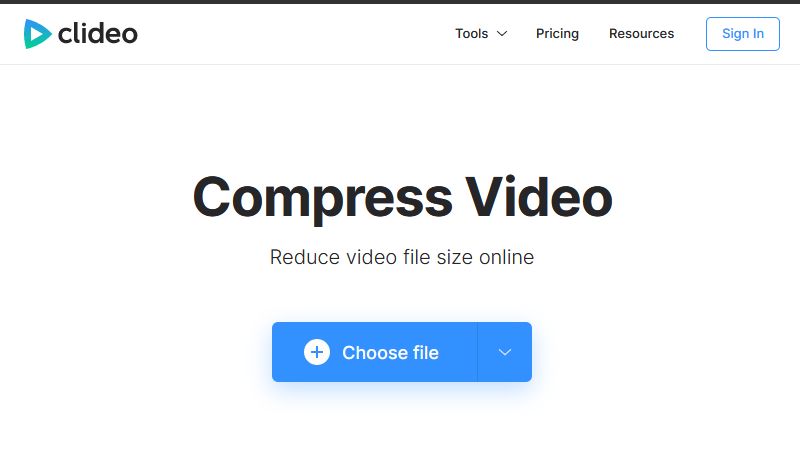 Advantages
Ability to modify files at the downloading stage;
Easy-to-use video file size reducer that even a novice would understand;
Ready to work with most of the modern video formats;
Compress videos stored in Google Photo, Google Drive, and Dropbox;
Preview features.
Disadvantages
A PRO account is required for unlimited file storage time;
When video is compressed, a service watermark is inserted;
Quite a long compression time even for short clips.
5. Compress video online with various settings using AConvert
A simple online video compressor that supports all modern file types. It has compression ratio settings: "lossless", "decrease video bitrate", "change constant rate factor". You can make video file smaller from a local source, via a link, as well as from Google Drive, Dropbox cloud resources. This is very convenient if you're looking for a way to compress video for email to share it quickly.
All conversions are performed online, which means you can use the utility from any device, regardless of your operating system. Whether you're using Mac, Windows, or Linux, all you need is an Internet connection.
Advantages
Ability to work on any device (smartphone, PC, tablet, etc.);
Multi-format video compatibility;
Video reducer with customizable settings;
Availability of additional tools.
Disadvantages
Mediocre interface;
Takes a considerable time to make any file smaller.
6. Convert videos with FreeFileConvert to reduce the file size
A simple yet effective online video compressor. Files can be added directly from your local drive using a Google Drive link or Dropbox cloud storage. Works with all popular media standards. In addition to the video compression service, there are additional video tools on the platform that can be useful.
Advantages
Simple interface without unnecessary settings and complex parameters that will be incomprehensible to novice users;
Fast operation on all devices;
Ability to use the platform anywhere where there is Internet;
Compatibility not only with videos, but also with other types of files.
Disadvantages
Modest interface with minimal settings required for professional use;
Does not allow you to compress video files larger than 300 megabytes.
7. Service by Free Convert to compress MP4, AVI, MKV and other files
Straightforward online video compressor that works fast right in a browser. The file is uploaded either from a working device (internal memory), or via a link, or via cloud resources Google Drive, Dropbox.
In addition, the user can choose the output file format and many additional settings. For example, you can set video codec, compression method, compression percentage, set compatibility with older devices. The latter feature is especially relevant if you wish to reduce the file size for further use on low-powered devices.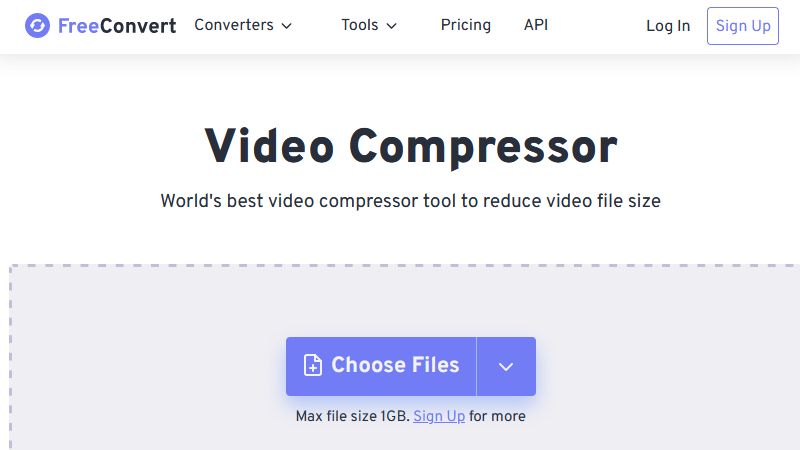 Advantages
Pretty nice interface with the accurate button layout.
Compatible with all modern video formats.
Possibility to save compressed file to local drive, Google Drive, Dropbox or even mobile device using QR code.
This file shrinker is available for iOS and Android devices.
Disadvantages
Ability to work with files only up to 1 gigabyte;
Register or buy a PRO account to expand the functionality of this video compressor.
8. Online Video Compressor from FileConverto
A simple file size reducer for everyday tasks. The interface practically does not interfere with the user, since the location of all controls is in a convenient place and is understandable at the level of intuition. Works with all major formats and has the ability to scale (change the resolution) of the final video.If you are going to use this tool to shrink a video file, please be aware that this file compressor can only work with the gadget's physical memory. There are also several additional tools for working with other file types.
Advantages
Efficient video compressor for everyday work;
Compatible with many multimedia data formats;
Uncluttered interface.
Disadvantages
The upload limit of the video size reducer is 500 megabytes.
9. Reduce Video File Size Online with VideoSmaller
A video compressor that can be used occasionally or permanently. The interface has been translated into many languages ​​to make it easier for users to reduce the video size. The settings allow you to change the frame width of the output video. Also, the utility can mute video file so that you can then overdub a new audio track. It is a well-suited service for bloggers, designers for processing small files, managers for compressing videos and sending them by mail.
Advantages
Availability of different languages ​​in the interface settings;
Change the width of your displayed video image for various purposes, for example, for a YouTube video;
Can compress videos of all popular formats;
Ability to remove audio;
Additional compressors for other file formats.
Disadvantages
This file shrinker has no integration with cloud storage;
Upload video data up to 500 megabytes.
10. Free video compressor by Media.io.
The online file size reducer has a rather pleasant appearance and intuitive interface. When compressing video, the service allows you to set the compression method, output file size, and image resolution. The process is carried out in a short time, and since the service is online, you can use it anytime and anywhere.
Advantages
Compress video files online with a sufficient number of settings;
Appealing interface.
Disadvantages
11. Make video files smaller without losing quality using MP4Compress
An easy-to-use free video compressor suitable for everyday use. All you have to do is select and upload a video, wait for it to be compressed and save it back to your device. The interface allows you to make the file smaller with only two buttons. The whole process is automated and quite fast. As a result, you get a compressed video with virtually no quality loss.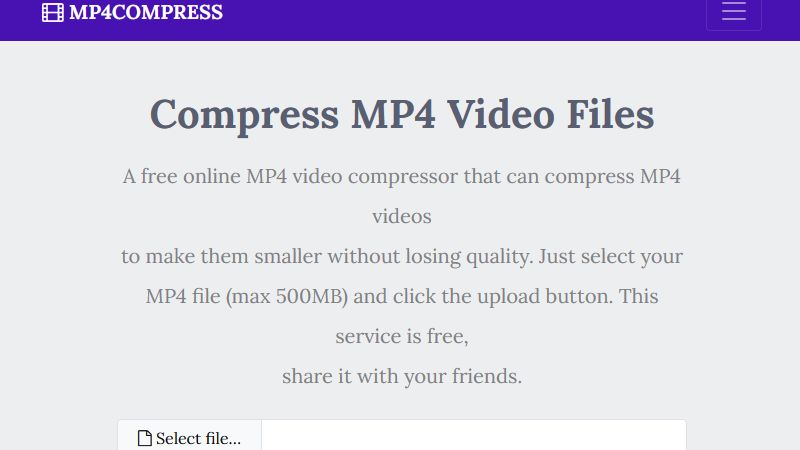 Advantages
This MP4 compressor will be convenient for novice users through automation;
Beautiful interface;
Additional video processing functions.
Disadvantages
Compressing large files can take a long time;
Thsi file reducer is not compatible with all video formats, so you may not be able to compress all of your videos.
12. Free service to make video files smaller by XConvert
Functional file size reducer with extensive settings. Here the user can compress video files and set codecs, bitrate, resolution, size reduction due to FPS or percentage, adjust the output format. This utility is more suitable for advanced users who need to set certain proportions of the picture for different tasks.
Advantages
Wide range of output video file settings;
The correct location of the settings buttons;
Compress Mp4 and other formats free of charge;
Integration with Google Chrome and Dropbox cloud resources to save space on your device.
Disadvantages
Middling interface;
XConvert has a limited set of features compared to more advanced video file size reducers.
13. Video compressor that protects your video quality from Kapwing
A powerful online platform for working with media files, including a video reducer. Suitable for beginners and professionals for high-quality video compression. Compatibility with Google Drive, Google, Photo Dropbox expands the capabilities of the program and makes it more versatile. Videos can also be uploaded with a link to a resource.
When compressing video, user can set 4K resolution, compression level, output file format. All this allows you to process data for specific tasks, such as YouTube videos or social networks, which have their own rules.
Advantages
Upload from Google Cloud and Dropbox to make video files smaller;
Wide settings for the output image and file format;
User-friendly interface.
Disadvantages
If you are a beginner, your workspace will be very cluttered at first;
Requires authorization.
14. Quickly & easily compress videos with Veed.io
Interesting service that can compress video online. It has a lot of settings right in the process of uploading video to the server. It is possible to set the compression level and the resolution of the final image. At the bottom of the screen is a timeline with a frame-by-frame location of the clip. Professionals and beginners can easily shrink their videos, as the interface is intuitive.
Advantages
Sufficient settings for mid-level video editors;
Clear and colorful interface;
Video compressor is distributed free of charge.
Disadvantages
Limited number of video formats supported;
No ability to edit audio;
This video file size reducer does not support all popular browsers.
Best Online Video Compressors - Conclusion
In conclusion, a video compressor is an invaluable tool for creating videos that can be shared easily. With the vast selection of services that can make video files smaller, it can be difficult to pinpoint which one is best suited for your needs.
Factors such as output size and quality, compatibility of the format with other platforms and devices, speed of compression, and ease of use should all be taken into consideration when making your choice. Ultimately, it is up to you to select the most suitable file shrinker that will meet all your requirements.
Try other video tools available