When thinking about how to remove the unwanted part of a video, two people may think of different actions. One may be looking to crop a video, while the other will need to trim a video.
This article will explain the difference between video cropping and trimming tools. In addition to that, it will give suggestions on how to best perform those manipulations.
Whether they are looking to remove sensitive content from a video or cut out unnecessary elements, we have answers for you.
Trim a video: meaning
Trimming videos is a process of eliminating extra segments from a video. It helps shorten the length of a video or delete certain sections that are irrelevant.
The trim tool can likewise be employed to improve the quality of a video by taking out any shaky or blurry footage. With the help of a a free online video trimmer, you can edit out unwanted sections at the beginning and end of a clip, as well as within the footage itself.
Trimming videos is also helpful for creating different versions of existing content. For example, you could trim out an outdated part of instructional videos or make them of different lengths for various audiences.
How to remove the unwanted part of a video: trim
Video Candy is a simple yet powerful online video trimming tool that allows users to quickly and easily split their clips into smaller parts. Breaking up a video could be effective for removing unwanted portions, such as commercials or extraneous material.
Here is how to cut out parts of a video using this service:
Open the online video trimmer with any browser on your phone or computer.
To upload the video, click the "+ Add File" button. Choose the file for processing.
Select one of the options: "Extract segment" or "Remove segment". You can also manually enter the values for the "Cut timing". Add a Fade to black transition if desired.
Once you have completed video trimming, hit "Export". Then, download the file.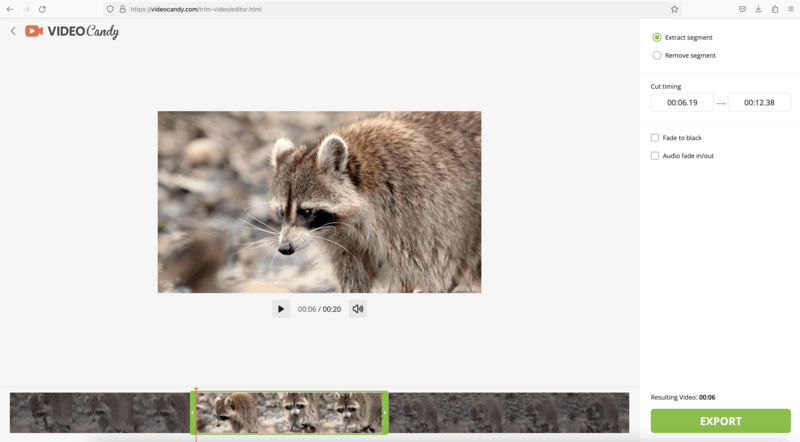 Trimming videos is the major step when preparing clips for further video editing. By mastering this technique, you can select the most moving and engaging parts of the footage to produce content that gets your audience excited.
Moreover, with this website, you are able to make other changes to your videos. For example, after trimming, you can combine your videos into one final film.
Pros of the online video trimmer:
This is a free platform to trim a video online;
Since this a web-based tool, it does not take up storage space on your device;
User-friendly interface is easy to understand even for beginners;
You can trim videos on any type of device - iPhone of any model (Pro, ProMax, Plus, Mini, SE, versions 14, 13, and younger); Windows 10, 8 7, and other; Android-based phones; iMacs and Mackbooks.
The service is adjusted to work in all modern browsers - Safari, Google Chrome, Mozilla Firefox, and others;
The website supports uploading size of 2 GB in all major video formats - AVI, MP4, MOV, WebM, and more;
Why use a video trimmer
Here are some of the top arguments to think about the option to trim your video:
Better storytelling. By removing unnecessary parts, you can make your story clearer and more concise. This will help keep your viewers engaged with what you are saying or showing. To help set the mood, you can add background music to the final video.
Highlight key moments. Trimming extra content helps draw attention to the most important moments in your video. This increases the impact of those moments and can help keep viewers interested and entertained.
Cutting down the length. Sometimes it is necessary to shorten the duration of a video for sharing or streaming purposes. Video trimming can help you reduce the size of long videos without losing important content.
Often, segmenting videos is the preparatory step before combining multiple clips into one cohesive film. This process is known as "stitching" or "merging". Such manipulation is especially useful when creating longer videos that contain multiple segments or scenes.
Video trimming is an essential part of crafting captivating content. With the free video trimmer you can do just that and a little bit more!
Crop a video: meaning
Cropping videos is a basic approach to getting rid of undesired portions of a video. Video cropping helps delete extra background that are irrelevant to the content.
Video cropper is capable of cropping out small ads, logos, watermarks, or any other unwanted content that is located around the main subject.
Cropping videos is a great way to quickly and easily create a professional-looking video, eliminating the need for re-shooting footage. The video cropping process only takes a few moments and can be done with any video editing program.
How to remove the unwanted part of a video: crop
Video Candy also offers the online video cropper to help you zoom in on your clips or adjust the focus of the footage. With this tool, you can quickly crop any video online to remove distractions from your clip.
Here is how to delete a part of a video with this platform:
Go to the online video cropper in a browser on your device.
Hit the "+ Add File" button to upload the video to crop.
"Set the "Video Ratio" (16:9, 1:1, 3:4, or other) or enter the width and height values. Alternatively, you can adjust the size of the cropping area with the frame hovering over the video.
Once finished, click "Export". Download the resulting video.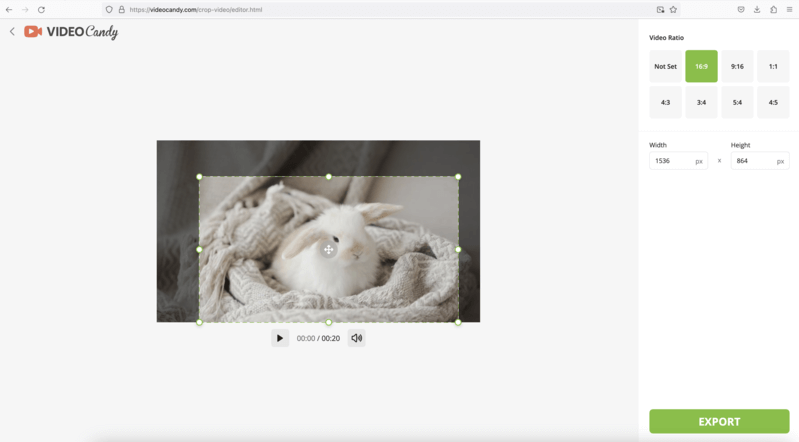 With this video cropping instrument, you can not just eliminate certain elements in the clip, but also set the specific ratio to meet the requirements of various social media platforms. Moreover, this option will also help you adjust your video to the same dimensions if you need to merge videos in the future.
Pros of the online video cropper:
Free video cropper that operates completely online and does not require installation.
Simple interface that fits the needs of both, novice and pro users.
The service is compatible with any iOS and Android phones, Windows, and Mac computers.
Video cropping can be done in any browser - Safari, Google Chrome, Edge, and others.
You can upload and crop video in any format - AVI, MP4, MOV, and more.
The website offers many other tools for working with videos, like a video compressor or video to audio converter, and more.
Why use a video cropper
When editing a video, it is crucial to excise any extra elements. Cropping a video is one of the best ways to remove distracting areas that were not intended to be in the filming frame.
Take a look at these reasons why one may need to crop a video:
Eliminate distractions. Cutting away any distractions or irrelevant background can ensure that your viewers do not get sidetracked or lose interest. This will ensure their attention on the points that matter most to you.
Change aspect ratio. If you need to adjust the dimensions of your videos for different devices and platforms, cropping can help you achieve this goal quickly and easily.
Overall, cropping videos can help you produce engaging content while staying within the necessary parameters.
Remember, that cropping out a watermark does not eliminate the need to follow copyright laws. If you have permission to edit the clip or work with your own footage, this free video cropper will assist you in adjusting the ratio and focus.
Trim video vs crop video
Trimming and cropping are two popular functions used when editing videos. Both are useful for creating the best possible version of a clip, but they differ in important ways.
The two tools hekp achieve different aims.
Video trimming is the process of removing portions of a clip. It lets you select sections of a clip to keep and those to discard, so you can create just the right length for your project.
Video cropping is the process of adjusting the frame size of a clip. You can reduce the width and height of an image or select a specific region within the frame to focus on.
Finally, trimming and cropping also involve different tools or methods depending on which video editor you're using.
The choice between trimming and cropping depends on what kind of result you want to achieve with your project.
How to remove the unwanted part of a video: conclusion
Video cropping allows you to zoom in on a clip and focus on the key elements or characters of the footage. Video trimming helps prepare your footage for further editing or simply cut down the extra length of the film.
In any of these situations, editing unnecessary footage is a relatively easy process. The most important point to remember when editing a video is to have the right tools for the job.
With a little bit of practice and patience, anyone can learn how to employ basic video editing skills. By developing such abilities, you will generate high-quality video content.