Do you want to know how to combine videos on any operating system for free? With the rise of social media, video editing has become a necessary skill for those looking to produce high-quality content. Whether you are a seasoned professional or just getting started, the good news is that you can easily merge videos on Windows, macOS, Android and iOS. Therefore, this article talks about 3 free video combiners: one is web-based, one for Mac, and one for Windows.
1. Combine videos online
Open the Video Merger in your browser.
Click the "Add files" button or drag-and-drop videos. MP4, MOV, AVI, MKV, and HEVC formats are supported.
Select a transition effect in between the videos or proceed without it. Set the options for "Fit size" - black bars, blurred bars, or no bars. You are able to also adjust the video ratio.
Rearrange the order of the clips on the timeline. Add background audio if desired. Muting original audio is available, too.
Preview the video in the player and click "Export" when satisfied. Download the output media when ready.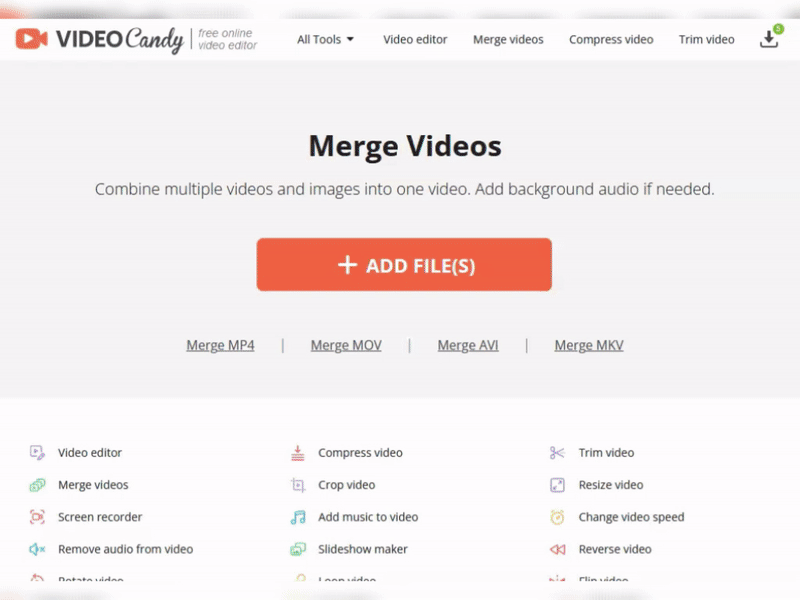 Pros of online video combiner:
No need to install any additional apps or software, join videos straight away;
Offers different video tools to perform processing tasks with videos online;
Has an intuitive interface for comfortable video combining;
Merge videos on all types of devices - iPhones (Plus, Pro, ProMax, Mini, SE), various Android-based phones, iMacs and MacBooks, desktops and laptops with Windows OS;
Possibility to use the default or customized settings;
Ability to process videos of up to 2 GB;
Video merger that supports various input formats.
What type of content can you produce with this online video merger?
Simple editing on the go. A video joiner is handy when you need to combine two videos and run out of time. With the web-based video editor, you are able to make adjustments to your videos quickly.
Videos for various social media platforms. If you are an active social media user, you may often need to create short videos or make slideshows out of photos. The video editor provides an option for combining videos, making it a helpful tool for creating content for TikTok, Instagram, Youtube, and others.
Video combiner for beginners. For those with no video editing experience, this service is the perfect start. It provides the most fundamental functions that are easy to learn.
Extended functionality of the video processing website
This free online video combiner helps merge videos on iPhone and Android phones and computers with any operating system. With the additional tools, you can not only combine videos but manage video content as you wish. Here is the list of editing options.
Video editor with basic functions;
Trim, merge, adjust speed, loop, or reverse;
Compress, crop, resize, rotate, and flip your files;
Stop motion and slideshow maker to highlight happy moments;
Add background music or mute your video;
Screen recorder to capture the working process;
Video and audio converters to change files' format.
2. How to combine videos on your Mac with iMovie
This application offers a variety of tools to work with photos, videos, and music. The toolkit includes the option of merging videos. Below is the instruction on how to use the software as a video merger.
Open the program. Select the "Create New" button and choose "Movie".
Using the "Import Media" icon, upload the videos you need to e combined.
Place your first video onto the timeline by dragging it from the "Project Media" panel.
Do the same with your second video. Rearrange and/or add transitions if needed.
When finished, click the export icon in the top right corner to join videos together. Save the output content as a File, Facebook, YouTube, or Vimeo video.
Pros:
Easy to use to merge videos on Mac computers and iPhones.
Wide range of transitions available.
Ability to directly import videos from a computer or external drive for fast editing.
Cons:
Merging videos with the app is essentially performing video editing.
Takes longer than simple merging with the online service.
Only compatible with Apple devices.
Utilizing this program on, you will be able to stitch videos together on Mac without having to invest in expensive software or learn complex editing techniques.
3. How to merge videos using Movie Maker on your Windows computer.
Combining videos with Windows Movie Maker is an easy way to produce impressive movies. It is a generic Windows software that allows you to make basic edits, including merging. Here is a step-by-step guide on how to stitch videos together with this app:
Open the program.
Select either the "Create New Project" option or pick the "Join Videos" tool from the "Quick Tools" menu.
Choose the videos you want to combine from your computer's library.
Drag the videos into the timeline at the bottom of the screen.
Arrange the videos if needed.
Click the "Save Video" button to merge videos.
Adjust the setting of your output video and then click "Ok".
With this Apple video merger, you will have the flexibility to combine videos into one and perform further adjustments to your clips.
Pros:
Free to use and already pre-installed on Windows PCs.
Simple video combiner for beginners.
Supports most popular video formats, including AVI, WMV, and MOV.
Cons:
After performing video merging, you have to export the combined video as a film file.
Processing time is the same as of the edited video project.
Only works on the Windows operating system.
In conclusion, using this application is a great way to quickly merge multiple videos on a Windows computer. With its intuitive interface and a vast array of features, you will make stunning movies with just a few clicks of your mouse!
How to combine videos: Conclusion
Video Candy is a free online video joiner, so you can use it to merge videos on iPhone or Android, on Mac or Windows. It operates similarly on all devices. You are able to choose any browser you like to use to work with the editor. Try the online video merger and explore its other possibilities!
What else you may find interesting
Combining videos is only one of the steps of video production. If you are looking to develop your skills in video editing, check out our article on the ways to crop video online
For convenient sharing of your combined video, it needs to have a manageable size. Use the video compressor to make your videos smaller for faster uploading.