If you are looking for how to turn a video into audio on iPhone, then you have come to the right place. Being able to convert video to MP3 on iPhone is a terrific way of saving space while still relishing your favorite music with high-quality audio.
Changing a video to MP3 is a superb method for saving and circulating music, audiobooks, podcasts, and more. With the right tool, it is easy to do this on your iPhone. This article describes 5 video to audio converters for Apple users. They include online video to MP3 converters and specialized converting applications.
1. How to convert an iPhone video to MP3 with PDF Candy
Check out Video Candy! The website has many tools, and one of them is the online video to audio converter. This is the best solution if you need to transform a video to MP3 on iPhone. This free online video converter changes MP4 to MP3, AVI to MP3, and other common formats. Here is how to use this online audio extractor with any iPhone browser.
Open the video to MP3 converter for iPhones in Safari or other browser on your phone.
With the "+ Add File" button add the video that needs to be converted from your phone's library.
The service will start converting automatically. Once the processing is done, you will be taken to the download page where you can save your file to a desired location.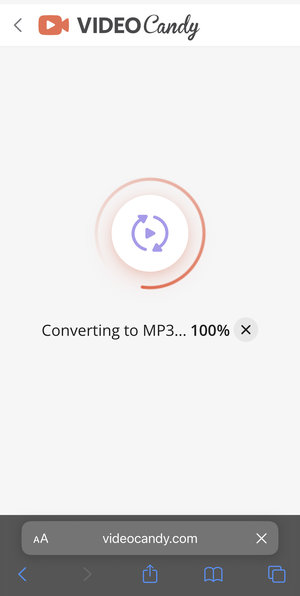 Converting video to audio on iPhone is that simple! Saving video content as MP3 files makes them easier to manage and sort through on your smartphone. For instance, you may have a large video library but only want to listen to the music or audiobook elements of it. In this case, you can easily use Video Candy to shrink those videos into more compact MP3s that are easier to organize and access.
Pros:
Easy to use and can convert a video to MP3 on iPhone for free.
You can use the video to audio converter online without signing up.
Supports a vast array of video formats - HEIF, AVI, MKV, MOV, and more.
Quick conversion time - complete video to MP3 conversions in just moments.
High-quality output - get MP3 files with crystal clear sound.
Save converted files directly to your device for easy access anytime.
Ability to extract audio from video on iPhone devices of all models - Pro, ProMax, Plus, Mini, SE, and others.
Works in Safari, Google Chrome, and other browsers.
Stores recently processed videos for two hours.
Offers supplementary tools for video editing.
When your video files are turned into MP3s, they take up less storage space and can be easily transferred or shared without taking up too much data. This online audio converter for iPhones is an efficient service to perform such manipulation. Above all, it offers other instruments that can help you mute a video or even edit videos right on your iPhone. Explore the possibilities of the platform and use your device to its fullest capacity!
2. Online video converter with MP4 to MP3 tool
A web service is a great video to MP3 online converter. Such platforms provide a simple and user-friendly way to get the job done without the need to install a specific app to convert a video to audio on iPhone. This is how to use another online service - Free Convert.
Open the Video to MP3 tool on the website.
Select the file to extract audio from the video by clicking "Choose Files".
Once the video is uploaded, click "Convert" to begin the processing.
When finished, hit "Download" to save the new audio file.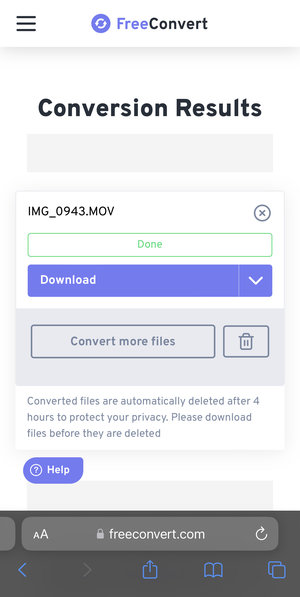 One of the motives for utilizing an online video to audio converter is so that users can conserve battery life. You will be able to listen to the media content rather than watch it. The resulting file becomes considerably smaller. Hence, one can listen to the favorite content for longer periods without having their device's battery drain quickly.
Overall, Free Convert is a simple online audio extractor to turn your iPhone video to MP3. With this converter, you can select multiple videos at once to save them as audio files. However, be prepared, that it may take too long for the platform to perform the converting manipulation. If this happens, consider the option to compress your video before turning it into audio.
3. Convert a video to MP3 on iPhone with Online Audio Converter
Online Audio Converter is a platform that offers advanced options for anyone looking to convert video to MP3 on iPhone. While changing your iPhone video to MP3, you can assure that the final audio is of the best quality. It will sound clear and crisp when played on any device. Here is the instruction for using this MP3 converter on iPhone:
Go to the website's main page.
Upload the video for conversion with the "Open File" button.
Choose the outcome format and the quality. You can convert your file to any audio format.
Hit "Convert" to begin the change.
After the service processes your request, click "Download" to save your audio.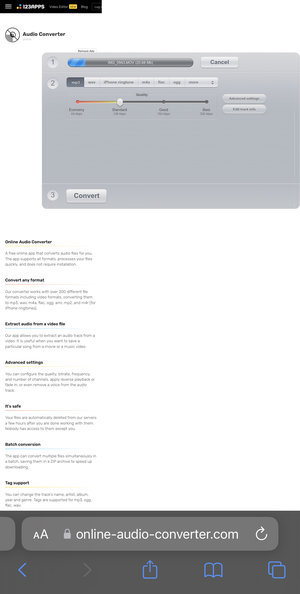 This video to audio converter offers an online experience that almost reflects working with professional software. You will be sure that whenever you need to extract audio from a video, the sound quality is not lost. Moreover, you can even use the extracted sound and add background music to a video, creating memorable films with your favorite songs.
The Online Audio Converter offers options to convert video to MP3, WAV, iPhone ringtone, M4A, FLAC, OGG, and more. On the downside, it does take significant time to upload even the smallest videos, although the conversion process itself is fast. In addition, it may be best to use this website on a computer or a tablet. The user interface does not seem to be modified for mobile users.
4. Lightweight "Video to MP3: Add Audio" converting app
Surely, using an online audio converter to save a video as MP3 is convenient when you need to do so only so often. However, the need to extract audio from a video may arise on a constant basis for some users. For example, for those who perform video editing and need background music for their productions. Such professionals may consider getting a specified application like Video to MP3: Add Audio. Here is how to perform conversion with it:
Download and install the app on your phone.
Choose the option "Video to MP3".
Adjust what segment of the video you want to save as audio.
After you are done or if no edits are needed, click the checkmark icon in the top right corner.
Enter the new audio name and hit "Ok" to save.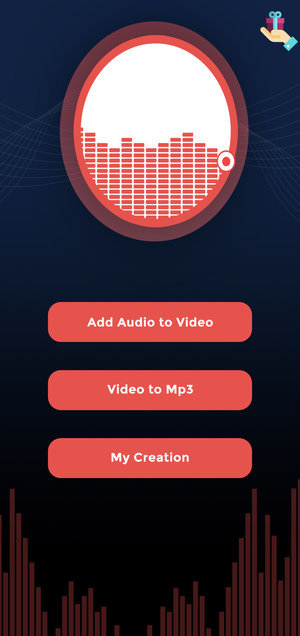 The whole process is fast and easy, making it an ideal method of how to convert a video to MP3 on iPhones. Plus, with this app, you can trim a part of the video if you do not need the audio extractor to save the entire sound.
5. How to turn a video into audio on iPhone with Media Convert app
If you are not new to working with content, then the app Media Convert may be your next video to MP3 converter for iPhone. With the wide range of offered parameters, you will get the best result after you extract audio from a video on iPhone. Below is the description of using this application.
Download the application from the App Store.
Open the video to audio instrument and select the file you want to convert.
Adjust the settings for your resulting audio. You can choose the output format, codecs, and other audio parameters.
When you are ready, hit the export icon in the top right corner of the screen.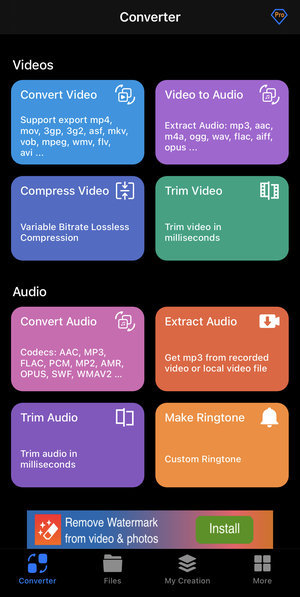 The MediaConvert gives you the freedom to professionally adjust the resulting file as you turn your iPhone video to MP3 format. With specific customization options, such as audio bitrate, this app can be equally amazing for pro users but too confusing for beginners. In addition, occasional small advertisements appear if you are using the basic free version of the software.
Useful tips to convert a video to audio on iPhone
As you explore your options for online and offline audio extractors, below is a piece of advice to make the process smooth and fast:
Search for a specialized video to MP3 converter that fits your needs the best. Choose a simple and easy-to-use service or one with an extensive set of additional editing features.
Check the file size before converting an iPhone video to audio. Large-sized videos will take longer to process. To save time, compress your iPhone video first.
Make sure you save the file in a folder on your phone so you can easily find it later. Check in the app settings where the outcome files are saved. Alternatively, use an online video to MP3 converter to follow the file's path with ease.
Avoid converting copyrighted material as this may be illegal in some countries and can lead to penalties, fines, or even jail time.
Look for an MP3 converter for iPhone with additional features. Many offer batch conversion, adjusting the video speed, trimming videos, and other instruments for more control over your resulting audio files.
How to convert video to MP3 on iPhone: conclusion
As you have just learned, you are able to extract audio from a video on iPhone in a pretty straightforward manner. Choosing one of the above applications or online audio converters, you will be rocking out to your favorite tunes in no time. So go ahead and convert video to MP3 on iPhone and enjoy your music! Use it as a background sound, share it with friends, and do anything else you may want to do! The only limit is the sky.