A great way to improve the overall viewing experience is to add audio to video. Whether you are making a video for work, school, or just for fun, learning how to incorporate sound into your video will make it more engaging and memorable. Overall, adding music to video can help create a unique and engaging adventure for viewers and ensure they get the most out of your video. In this article, we would show you how to add audio to video on Windows 10 and 11. With the right knowledge and tools, combining audio and video is easy and fun!
1. Add Audio to Video Online for Free
Embedding sound into video through online audio adder is an ideal method to improve the audiovisual experience for your viewers. It is user-friendly and has a lot of features that make it preferable over other options. Here's how to blend audio and video:
Open the tool that will add audio to video in any preinstalled browser.
Upload the video by clicking "+Add file". Alternatively, you can drag and drop it.
Click the "+Add background audio" tab on the menu and select the desired audio to upload from your Windows device. If you have the unwanted sounds on the original video, you can mute them. Otherwise, the new track will overlay the original one.
It is possible to loop the audio if you want your track to be repeated throughout the video.
Click the "Play" button to watch your edited video and press the "Export" when you are satisfied with your work.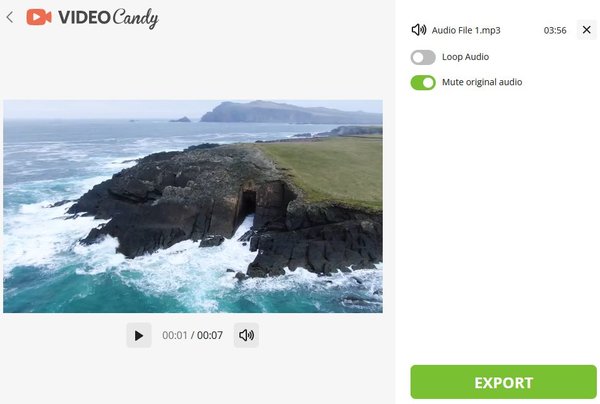 Taking advantage of adding audio with online tool carries several benefits:
Every step is displayed in a clear manner so it is the easiest way to add music to video.
You can preview and make changes until you're happy with the results.
The process can usually be completed in minutes.
You can add song to video without needing any specific software or buying a key.
Supports also Windows Vista, XP, 7, 8, Mac and Linux.
2. Add Background Music to Video with Photos App on Windows 10, 11
Syncing audio with videos in the Windows Photos App is easy and straightforward. Let's see how:
Open the App.
Select the video that will have audio added.
Click on the "Edit & Create" button in the top bar.
Select "Add Music".
A new window will open, giving you access to a library of music from which to choose one for your video.
Once you have selected the file, click on the "Apply" button to combine audio and video.
Click "Save a Copy".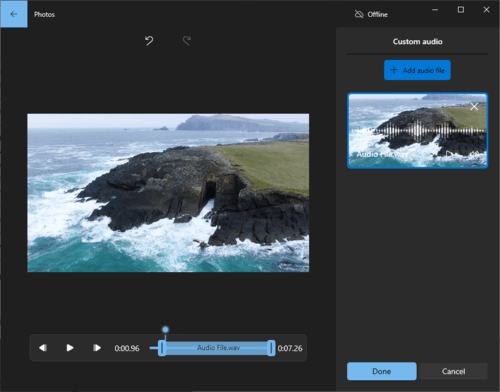 Pros:
Easy and fast to use.
Comprehensive video editing options.
Variety of supported audio formats.
Ability to custom voiceover.
Cons:
Limited access to royalty-free soundtracks.
Sub-par audio production resulting from a lack of additional settings for sound levels, etc.
Absence of advanced tools such as noise reduction or pitch shifting.
3. How to Layer Audio in Windows Movie Maker
Movie Maker is a free program that comes with Windows 10 and 11. It is simple to operate and can include audio in videos swiftly:
Access the video you intend to soundtrack.
Click the "Add Music" button in the Music Tools group of the Home tab.
To put music over video select the audio file.
Drag and drop it onto the timeline at the bottom of the window below your video clip.
Use the slider to adjust its volume if needed.
You can click and drag the edges of the audio clip to shorten it or extend it as desired.
When finished, click "Save Movie" in the Home Menu and save your video with its accompanying sound!
Pros:
Uncomplicated to operate.
Free way to add audio to video on Windows 10 and 11.
No need for specialized software or equipment.
Rapidly incorporates sound stripes into videos.
Cons:
Minimal video editing choices compared to more advanced software.
Not available on MacOS, only on Windows machines.
Low-quality output due to poor options in the program.
Can be slow and buggy at times.
4. Add Music to Video for Free with VLC
Combining audio and video through VLC Media Player is a quick and easy way to bring your videos to life. Here's the instruction:
Launch VLC and open the video file that is awaiting audio.
Go to the "Media" menu and select "Convert/Save".
Select the video from the list of available files and click "Convert/Save".
Select the "Audio codec" tab, put the desired settings, then click "Save".
Select a filename for the new file and click "Start".
The new file will be created incorporating an audio track.
Pros:
It is simple and easy to add song to video.
Can add audio from any source (mp3, wav, etc).
Can convert multiple files at once.
Can save in multiple formats (mp4, avi, etc).
Cons:
Not ideal for large-scale projects due to its potential slowness and resource intensity.
Few customization options for tracks (volume, EQ settings).
Cannot set start/end points for audio.
5. How to Add Sound to a Video Using Shotcut?
Shotcut is a free, open-source, cross-platform video editor that allows you to add audio to your videos.
Download and open Shotcut.
Choose the video you want to edit by clicking "Open File".
Select the "Audio" tab in the left menu and click "Add Track".
To put music over video choose the audio and click "Open".
Drag the file from the "Audio" into the timeline below your video.
Adjust the volume level of audio by double-clicking on it and selecting "Properties".
Finally, click "Export" in the upper right corner when you are done editing.
Pros:
Video editor with intuitive interface.
Variety of different audio formats supported.
Ability to adjust audio levels and effects.
Can record your audio directly into the program.
Cons:
Lacks video editing capabilities compared to other audio adders.
No support for advanced audio features (e.g. equalizers).
Reduced export options for finished videos.
Overall, it is a good choice for beginners who want an easy route to add background music to video. However, more experienced users may find the lack of tools and restricted exporting capabilities restrictive.
6. How to Put Audio Over a Video in Adobe Premiere Pro?
The program boasts a dynamic video editing utility that can be leveraged to develop remarkable videos. It offers many tools, including the ability to add audio to video. Here's how:
Open your video project in Premiere Pro.
Find the music file you want to add and drag it into the project panel.
Drag the track onto the timeline where you want it to appear in the video.
Control the volume of the audio using the waveform graph on the timeline.
Add transitions between clips if needed.
When finished, export your video and upload it.
Pros:
It's incredibly easy and quick to add sound to video.
You can make precise adjustments with its tools.
Cons:
You're limited by what audio and music files you have available,
Some of its components can be complicated for beginners.
Free 7-day trial only.
Why It Makes Sense to Combine Audio And Video?
Here are some reasons why you may need to grasp the method of integrating audio into a video:
To give your audience an immersive experience. Audio can be instrumental in helping bring your video to life and make an atmosphere that engages viewers. Sound effects are great for adding drama and emotion to your videos. Whether it's an explosion or a door slamming shut, syncing audio with video can help tell the story and convey the ambience of the scene.
To direct the flow of video. Music and sound may serve as a way to transition between scenes, highlight important moments in your story, and bring tension or suspense. To make the atmosphere of the video more spectacular you can incorporate stop motion effects.
To make sure your message is heard clearly. Adding audio to video can help ensure that people don't miss important information or dialogue.
To explain complex topics or give viewers a better understanding of what's happening on screen. Voiceovers are a powerful tool for creating engaging videos. They are also great for introducing characters and setting up scenes.
Tips on How to Add Song to Video
Make sure audio is the right length. Audio should be the same length as the video or shorter. You can either trim video or loop audio.
Use a good microphone. Invest in a quality microphone to capture clear sound with no background noise.
Test track. Check that the audio sounds good and that it's not too quiet or too loud.
Listen to the audio. Be certain to monitor your file while you're recording so you can make adjustments if needed.
Add background music to video. It can help set the mood of the recording, so don't overlook incorporating it!
How to Add Audio to Video on Windows 10/11: Final Words
The process of putting audio over a video may be daunting but with the right knowledge, it is possible to make it straightforward and even enjoyable. It's important to be aware of the different audio formats, bitrates, and codecs. Also essential to understand your editing software and how to ensure that it is in sync with the video.
Once you understand the basics of combining audio and video, you'll be able to create professional content that looks and sounds great. Keep experimenting with different formats and edits until you find the one that works best for your particular project. With practice, you'll soon be creating videos with smooth transitions, balanced sound levels, and crystal-clear audio.