Most people have encountered a situation where they need to know how to convert video to audio on Windows and macOS.
Maybe there's a great song in a movie scene that you want to add to your music library. Or, perhaps, you desire to break up the audio of a presentation or lection into individual files. No matter what the reason, the ability to pull audio from video saves you time and energy.
Fortunately, there are several tools available that make turning video to audio simple and straightforward. In this article, we'll cover four common ways of changing video into audio: using an online tool and desktop applications.
Method 1. Online Video to Audio Converter
Video Candy is the online platform that allows users to quickly and conveniently transform video to audio track. Extracting sound from video can be a useful instrument for those who want to listen to their favorite videos on the go. Or, if you just want to free up space on your device (audio files take less space), this is a great option.
Here's a guide on how to convert video to audio:
Go to free online audio extractor in your browser.
Click the "+Add File" button and choose the video. For your convenience, you can drag and drop it directly into the converter.
Once the conversion is complete, tap the "Download File" button.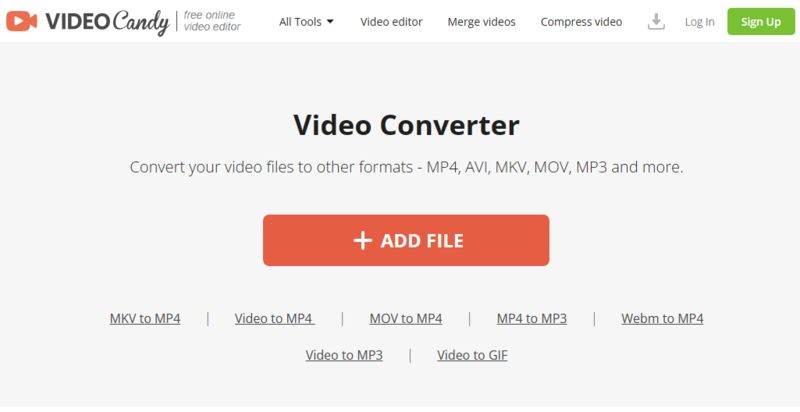 Benefits:
Using online tool for converting video files is preferable because of its many advantages.
Completely free - there are no hidden fees or charges associated with converting video to audio with our service.
Fast - conversions are completed within seconds, so you don't have to wait around for long periods of time.
Easy - the user interface of video to MP3 converter is simple and straightforward.
Compatible - supports a wide range of file formats, including well-known: MKV, WebM, MOV, AVI, and MP4.
Secure - all uploads and downloads are encrypted with industry-standard protocols.
Convenient - no software installation required, works on Windows 11, 10, and earlier versions and macOS.
Multifunctional - offers a variety of video editing tools, allowing you to capture screenshots and compress and convert videos.
Overall, the service is an excellent choice for anyone looking for an easy way to separate audio from videos quickly and securely without breaking the bank. Give it a try today!
Method 2. Convert with VLC Media Player
VLC Media Player serves as a free program that can be used to transform video to audio. It's easy to do, and anyone can extract audio from video in a few steps.
Download and install the program.
Open the desired video file in the player.
Select the "Media" option from the main menu.
Press "Convert/Save".
Choose the video from the "File Selection".
Find the output format you want to use under the "Profile" tab.
Select a place for audio files under "Destination".
Click on "Start" to begin video to MP3 conversion process.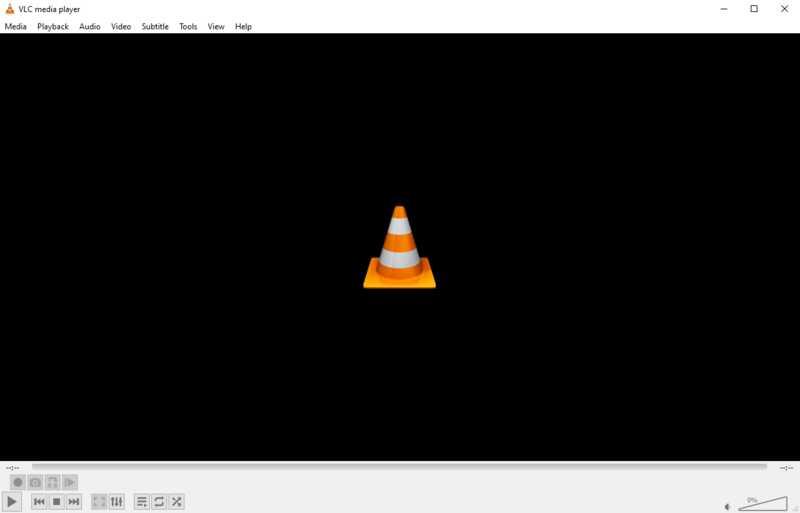 Pros:
Costless and easy to use video to audio converter.
The altered audio file will keep sound quality of the original file.
The conversion process is fast and efficient.
Cons:
It may not be able to extract audio from some video files.
You must have enough disk space on your computer in order to use it to turn video into MP3.
The output file size may be larger than expected due to encoding issues.
Only OGG, MP3, FLAC, and WAF output formats are possible.
VLC Media Player is an efficient way to quickly and easily turn video into audio files so you can enjoy your favorite audios in a whole new way!
Method 3. Audacity Audio Extractor
Audacity is free open-source software that enables you to easily transition videos into audio. It's available for Windows, macOS, and Linux. Here's how to convert video to sound:
Download the software from the website and install it.
To detach audio from video install the "ffmpeg" plugin.
Launch the program and click "File" > "Open".
Select the video file and press "Open".
You should now see the waveform of your video. Select the entire or a part of the waveform by pressing "Ctrl+A".
Go to "File" > "Export" > "Export as..." from the menu bar.
Click "Save" to keep the changes.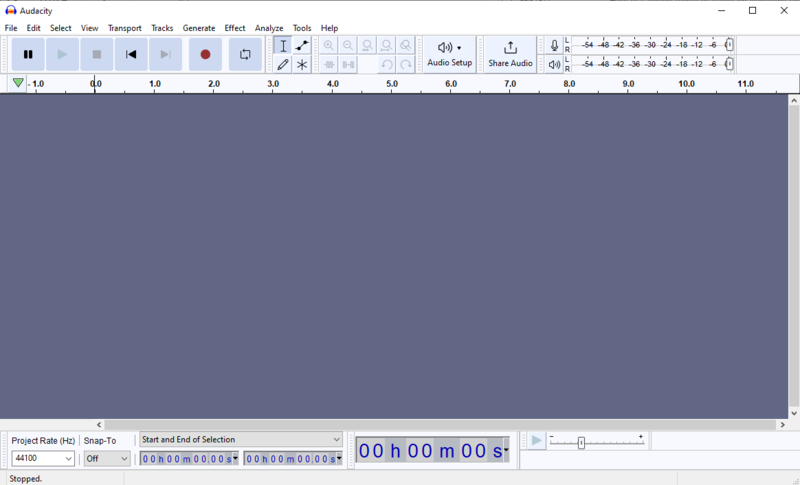 Pros:
Has sound editing tools such as EQ, and noise reduction.
Compatible with Windows Vista, 7, 8.1, 10, 11, macOS 9-13, and Linux operating systems.
Cons:
Limited video format support (only AVI).
Audio extractor is not suitable for advanced video editing tasks.
No support for lossless formats such as FLAC or ALAC.
Requires separate plugins.
The program is quite complicated due to its interface and set of tools.
Audacity is a versatile tool that offers many features beyond simple file conversion. This is an invaluable tool for sound professionals, but may be too complicated for those needing quickly convert video to audio.
Method 4. Convert to MP3 with VideoProc
VideoProc is an awesome tool for converting video to audio in a few simple steps. It's an easy-to-use and powerful video editing software that can help you transcode your files to MP3. Here's how:
Download and install the player on your computer.
Launch it and tap the "Video" button from the main window.
Pick the video file you intend to convert, then press "Open".
Go to the "Music" tab, then select the output format (for example, MP3 or WAV).
Click the "Run" button to initiate the conversion process and download audio from video file.
When it's done, click "Output Folder" to find your converted file.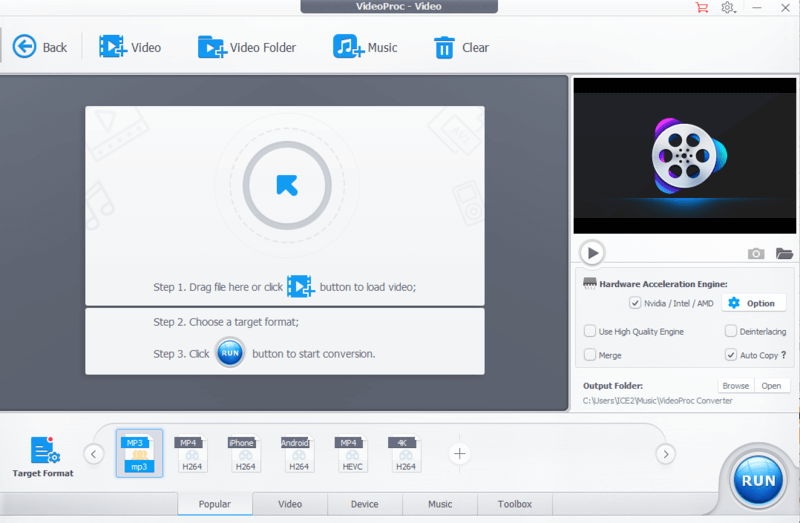 Pros:
High video to MP3 conversion speed.
Allows users to extract audio from multiple videos at once with just one click.
Able to convert videos to different audio formats like MP3, WMA, and more.
Cons:
Limited features on the free version. Users can only access the fundamental functions.
Requires an active internet connection for activation.
VideoProc Converter is a great way to quickly convert video file to MP3 while maintaining excellent audio quality.
Reasons for Converting Video to Audio
Using an audio extractor for transcoding video to MP3 could be a helpful resource. Here are some of the most common reasons why people choose to pull audio from video:
To save space. Encoding videos as audio can substantially reduce file size, providing you the capacity to store more media in a smaller area.
To reduce loading times. Video files take longer to load than audio, so changing clips to sound can facilitate the access to the content.
To compose ringtones. You can use the audio from a video file to create custom sound effects for your device.
To make podcasts.Audio files are much easier to edit and manipulate than videos. So if you aspire to produce audio podcasts or presentations, it is preferable to take audio from video.
To listen while traveling. Many users prefer listening to audio while they're on the go. Converting videos into audio makes it possible for them to do this without needing to watch the actual video.
These are only a few examples of why people might opt for turning video into audio files. Understanding the process provides you with a wide range of options when manipulating sound.
How to Turn a Video Into an Audio File: Tips
Use a reliable video-to-audio converter for quality results.
Select the video file you plan to convert and the output format you prefer.
Preview the video to ensure it's correct before proceeding with the conversion.
After successful conversion, check the output file for quality and accuracy.
Store converted audio files in an organized folder for easy access later on.
Use cloud storage services to keep and share audio files with others securely across the web.
How to Convert Video to Audio: Conclusion
This article contains a comprehensive guide on using various programs to convert video to audio. It is important to remember that the quality of the output audio file depends on the source video. To extract sound from video, there are a variety of formats and codecs available.
Additionally, you should remember that some video-editing software may require specific settings for different types of videos.
Finally, it is best practice to preview your audio file before you save it, in order to verify that it meets your expectations.
Other Tools to Try
Once satisfied, you can export the file from your software and use it for whatever purpose you need. For example, you might add the separated sound as a background audio to the new video file. Before doing that do not forget to mute the original track of the video.