Knowing how to mirror a video is an important skill to have if you are creating content for the web. It allows you to flip the image vertically or horizontally, which can come in handy for all sorts of reasons. Creating an interesting visual effect or reversing a video for a particular reason - understanding the process of reflection can help you create awesome visuals and ensure your content displays correctly across platforms. Thanks to it, you will be able to add unique touches to your videos that will help them stand out from the rest.
How To Mirror a Video on Any OS?
1. Flip Video Online
With the service, you can quickly and easily mirror your video online horizontally or vertically to achieve the perfect effect. This is preferable to other options of flipping a video since it requires no additional applications or add-ons are needed.
Here's a step-by-step guide for video mirroring using Video Candy:
Go to Video Flipper and upload your video by dragging and dropping it into the main interface or clicking the "+Add File" button.
Choose whether you want to flip your video horizontally or vertically, based on the mirroring effect you're trying to get. You can select both variants.
Click "Play" to take a look at your flipped video prior to saving it. If you like the result press "Export".
Finally, click the "Download File" button to store the mirrored video on your device.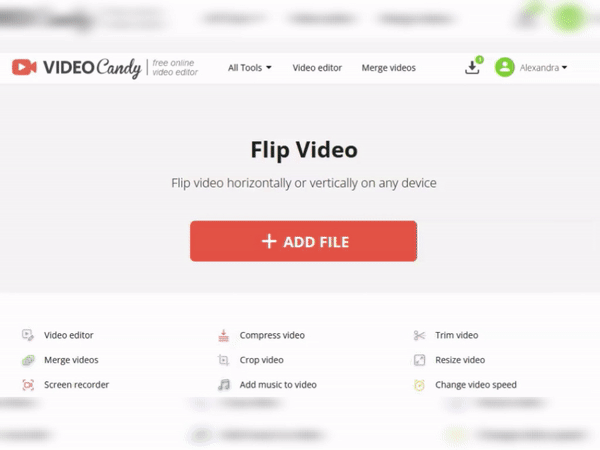 The benefits of using online service to mirror video
No extra software or plugins are required.
Intuitive preview system so you can check your mirrored video before saving it.
Fast processing speeds and high-quality results.
Free service to video flip with no registration required.
Supported by Windows Vista, XP, 7, 8, 10, 11, macOS, Android, and iOS.
Compatible with most popular browsers like Google Chrome, Mozilla, Safari, Edge, and others.
Works with a variety of video formats: MP4, AVI, MKV, MOV, WebM, and GIF.
2. How to Make a Video Mirrored With VLC?
VLC media player is a free, open-source media player that can serve as a reflection for a video. To flip a video using VLC, follow these simple steps:
Open the VLC media player.
Select the "Media tab" from the top of the window and click "Open File".
Browse for the video file you need to mirror and select it.
Press "Tools", click "Effects and Filters".
Go to "Video Effects", select the "Geometry" option, and check the "Transform" box.
You can flip video horizontally or vertically. Click "Close" and then press the play button to start the flipped video playback.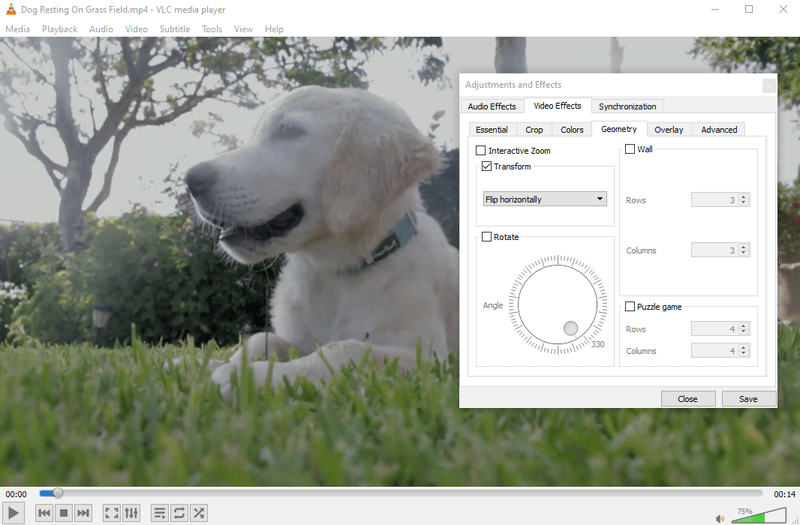 Pros:
Video player that supports multiple formats.
Video flipper that includes extra features such as audio and video filters.
Supports both Mac and Windows OS.
Cons:
Limited customization functions, like adjusting mirroring position.
Results may vary based on the source file format.
May not be as reliable as other methods.
Overall, VLC is a great tool for basic video mirroring needs. However, it's important to consider the pros and cons before deciding which method to use.
How to Invert a Video on Windows?
Movie Maker serves as a basic video editing program that comes pre-installed on Windows OS computers. It's great for quickly flipping a video. Here's how:
Open Windows Movie Maker.
In "Quick Tools" choose "Rotate". Upload the desired video.
Select the "Horizontal Flip" option to mirror your video horizontally.
If you wish to reflect it vertically, choose the "Vertical Flip" feature instead.
To get the mirrored video, click the "Save Video" tab.
Choose a file format and name for your new mirrored video and click "Save".
Pros:
Movie Maker has a user-friendly interface.
Video mirroring can be done in just a few clicks.
The program is available for free.
Cons:
As compared to more powerful programs, it does not have advanced features.
Not compatible with other operating systems.
Maker only supports certain file types (MKV, MOV, MP4, and WMV), so users may have to convert their videos first.
How To Mirror a Video on Mac?
Flipping videos is useful when you want to make a left-right switch or create a mirror effect on your footage. Follow the instructions below to flip your video on Mac.
1. Flipping Video Files Using iMovie
iMovie is excellent for video editor built-in on Mac computers. It's perfect for mirroring videos.
Open the iMovie and press "Create New". Select "Movie".
Upload the desired video into the project by tapping "Import Media".
To flip video vertically: Select it in the timeline. Click the "Crop" tab above the "Viewer". Press the "Rotate" button twice.
To flip video horizontally: In the toolbar select "Clip Filter". Press "Flipped".
Pros:
With the built-in editing tools, you can easily adjust the size, orientation, and other aspects of the video as needed.
You can save your mirrored videos in a variety of file formats for different purposes.
Cons:
Flipping video files is not straightforward.
Only supports MacOS, so if you need to mirror videos on other platforms, you'll utilize another program.
Not all types of video are compatible with iMovie.
2. Use Quicktime Player as Mirror Video Converter.
Quicktime Player is an easy-to-use software for Mac users to rapidly duplicate videos.
To get started, open the program.
Then, click on "File" and select "Open File".
Once the video is opened, press "Edit".
In the drop-down menu choose "Flip horizontal" or "Flip vertical".
To save the flipped video, click "File" and press "Export As". Choose the settings you want for the new clip and give it a name before clicking "Save".
Pros:
Plain to access: The video player is pre-installed installed on macOS.
Flexible: Users can customize frame rate, video size, and compression.
Free: Comes at no cost.
Cons:
Limited to Mac devices: This method is only available for Mac users.
Outdated: It hasn't been updated for years and may not be compatible with newer video formats.
Why Flip a Video?
Gaining knowledge of how to mirror a video demands an understanding of the different types of mirroring, such as horizontal and vertical. Horizontal mirroring flips the image so that left is right. Vertical mirroring turns the video top-to-bottom so that up is down and vice versa.
Transforming a video is a quick way to craft a fresh look and vibe for your videos. It can be used to create a unique effect or to reverse the direction of a clip. Flipping a video helps when you require swift alterations, without having to re-shoot or edit the entire video.
Who May Need to Mirror a Video:
For filmmakers and videographers, reversing a video can assist create outstanding shots. By flipping the footage, they can achieve creative angles that wouldn't have been possible otherwise. They can also flip the video to make the background appear as if it is closer or further away than it actually is.
Can help anyone trying to match up two videos. If one was recorded from the left part of the room and another from the right portion, flipping will make it simpler to align both clips in post-production.
Mirroring videos is particularly beneficial for bloggers shooting with any type of camera that doesn't flip images when filming. For example, if you were using a GoPro and had to film upside down, mirroring the video could be your only option.
Overall, video mirroring may be very useful for many different people due to its versatility. So no matter what your reason is for wanting to invert video, there is likely an easy approach to accomplish it that works best for you.
Key takeaway
In conclusion, flipping a video is a straightforward process and can be achieved easily with the right video mirroring tool. Keep in mind that the service used must be compatible with the video format you are using and that the resolution of both the original video and the mirrored one should match. Additionally, always check both versions carefully to guarantee that they are identical.
Finally, it is essential to pay attention to the details. This includes making sure that all the settings are correct and that the flipped video looks as good as, or better than, the original. Doing so will help you create an amazing mirrored video that you can share with friends, family, and colleagues! But prior to it do not forget to polish your video by adding music, changing its speed, or reversing it.