In this modern age, many users are finding it absolutely essential to have an online video recorder. From recording your favorite movies and shows to creating guides and educational videos, such a tool will be a great investment for any enthusiast.
In this article, we are going to explain the importance of knowing which online screen recorder to use and how it can benefit any user. We will also tell you how to record browser, desktop or programs with sound, microphone and webcam.
What is online video recorder
An OVR, or online video recorder, is a tool that allows users to record screen and share videos over the internet. This type of technology is becoming increasingly popular. It enables individuals and businesses to easily capture videos of high-quality without having to purchase expensive hardware or software.
Using OVR is a fantastic way to quickly and easily create professional-looking videos, tutorials, and more. It also provides the flexibility of being able to access videos from anywhere, anytime. Avoiding complex software, OVRs are easily accessible to anyone with an internet connection.
The benefits of using an online video recorder are:
Easy to use way to screen capture with no complicated settings to tweak.
Flexible access from any device (PC, laptop, smartphone) and OS (Windows, macOS, iOS, Android).
Professional video quality.
No need for additional software or apps to be installed.
How to record the screen with Video Candy?
Open the online screen recorder in your browser.
Consider turning on the webcamera, audio and microphone capture and click the 'Start recording' button.
Select the desired video recording mode and click Share. Read more about it below.
Set permissions for your webcam and microphone, if necessary.
Click the Stop recording when you are done. Download the resulting screen recording or share it by URL.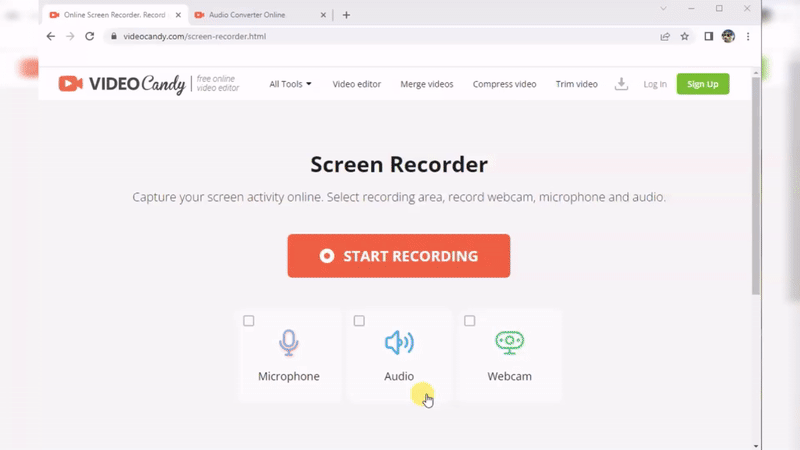 Recording capabilities
Screen recording is a powerful tool to capture video on your computer, laptop, or tablet. With our online screen recorder, you can capture the whole screen, a particular program or any browser tab in just a few clicks.
For full-screen screen recording, simply launch the online video recorder, click 'Start recording' button and share the entire screen.
You can also capture a program window. To do this, open the program you want to capture and then select the window from the Application windows list and click 'Share'.
Finally, you can record any browser tab. To do so, select the desired tab from the list of available Browser Tabs and click 'Share' to start the video recording.
What else you can do with Video Candy
Video Candy's video recorder is a great way to record screen online, share and edit it in a fast and effective way. You'll have access to an array of features and tools that will help you to trim, crop or resize your video recordings easy.
In addition, you can try an intuitive video editor for more thorough editing and an all-in-one video converter to transform videos to the desired format.
Video Candy also makes it simple to keep your videos organized and secure, so you can access the videos from any device. Additionally, its user-friendly interface allows you to quickly record, edit, and share videos with just a couple of clicks.
Advantages of this online video recorder
Easy to Use: Screen recording service with a user-friendly interface that makes it easy to record your videos, even for beginners.
High Quality: Records video in HD resolution, ensuring that the video quality is always top-notch.
Customizable: You can customize the video settings such as microphone, audio and webcam to get the perfect video output.
Multiple Capture Modes: The service offers a variety of capture modes, including full-screen, window, or tab, so you can record whatever you need.
Affordable: This screen recorder is a great option for people who need to capture videos and edit them in a fast and simple way.
External Device Support: Service allows you to record video from a webcam, capture system audio and your microphone.
What else to consider when choosing an online video recorder?
Resolution and Quality: It is important to take into the account the resolution and quality of the video being recorded. Ensure that the video recorder has a high-resolution display and offers a clear image.
Storage: Consider the type and amount of storage offered by the video recorder. Look for a device with enough internal or external storage to accommodate your video recording needs. Be sure to also check for any additional fees or charges associated with extra storage space.
Security: Ensure the video recorder is secure by verifying whether it is password-protected, encrypted, or has other built-in security features. This will help protect your footage and ensure only authorized users have access to the footage.
Cost: Cost is often a determining factor when selecting an online video recorder, so consider all of your options before choosing one. Also, be sure to compare different products and verify any ongoing subscription/maintenance costs that may apply down the line.
Final Words
In conclusion, online video recorders provide an easy and cost-effective way to capture videos from almost any device. With the ability to record from multiple sources, access stored recordings from anywhere, OVRs offer a great way to create video recording and share them without the hassle of traditional video recording software.
By offering enhanced security and scalability, online screen recorders are the best choice for those who are seeking a quick and easy way to capture and share video securely.
Check out other helpful articles
Learn the main difference between MP4 and MOV video formats.
Get to know TikTok and learn all about video sizes for this app.
Familiarize yourself with the MKV format if you've ever worked with it.