Knowing how to trim a video on Android is an essential skill for many of us who take videos with our phones. The good news is that, with the right app and some basic knowledge, anyone can learn how to do it quickly and easily. All you need is a video trimmer that allows you to select the parts you want to retain and then cut away the rest. In this article we will show you 2 free ways to trim videos on Android smartphones.
1. Trim video on Android online
Cutting videos can be a great way to make them look professional and creative. If you're looking for a simple way to trim videos, an online tool has you covered. Here is a step-by-step guide on how to process a video in a browser:
Open the online video trimmer.
Tap the "Add file" to upload the video.
Choose what you want to do from two options: "Extract Segment" or "Remove Segment".
Change cut timing by moving the sliders or by inserting the exact time.
You can check "Fade to black" to make the clipping point smoother. If you wish, select "Audio fade in/out".
Playback the result in the preview player.
When you're done, select "Export" to start video trimming.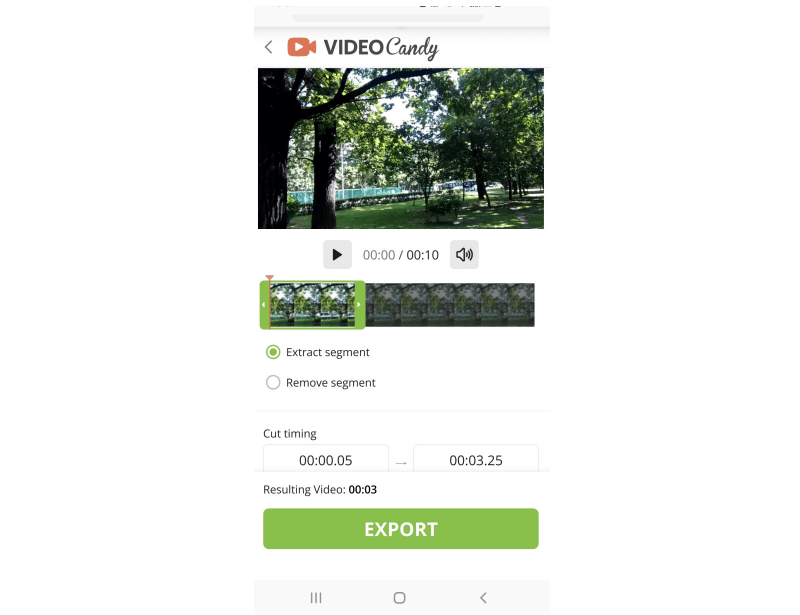 Using an online video trimmer has many benefits:
It is easy to use and intuitive.
Video cutter offers high-quality output files.
It has an extensive range of tools that enable you to add text, filters, music, effects, and more to your videos.
If you need an easy method to trim video on Android device, online trimmer is a great option that will give you professional results.
2. How to cut videos on Android with Gallery App?
If you wish to trim a video straight on your Android device, you can use the built-in Gallery app. It's a quick way to make very basic edits.
Open the Gallery app and select the video you want to cut.
Tap on the video to bring up the options menu at the foot of the screen. From there, select 'Edit'.
Free video trimmer will open with a timeline of your file at the bottom and several editing options. To edit your video, slide your finger along the timeline to select the start and finish of your clip.
Tap 'Export' in the top right of the screen. There you can select between the "Original size" option or the "Effective video" format.
Press the Export button one more time.
Cutting videos with the Gallery app is simple and convenient. It helps to quickly edit videos without needing any extra tools or apps. With just a few taps, you can adjust lighting, crop clips, or even add music or text.
FAQ on video trimmers for Android
Q1. How do I save my trimmed video?
A1.When you cut your video online, you can save the new file without any additional actions. If you save the video after editing it in the Gallery App, the file will be overwritten. So be sure to copy the video before trimming to save the original one.
Q2. Is there a limit to how much I can trim my videos?
A2. The above methods have no hard limitations when it comes to cutting videos.
Q3. Can I add transitions or effects while or after video trimming?
A3. Yes, use an online video editor to add transitions and special effects while trimming your videos.
Q4. Are there any tips and tricks for getting better results when using video cutter?
A4. One of the most important aspects is to maintain the aspect ratio of the video. Try to use video resizer that do not lower the quality of content for that.
Tips on cutting videos
Optimise your device: Before you start editing and trimming your video, make sure to optimize device. Close any unnecessary applications. Make sure you are running the latest version of your device's operating system. This will help ensure your media runs smoothly when you use video trimmer.
Preview your changes: Check the video trimming result to make sure it looks good before saving permanently. This is an excellent means of verifying that you have accurately trimmed the video.
Save frequently: Save frequently so that none of your work is lost if something happens unexpectedly. Android devices can occasionally crash or freeze up if too many programs are running at once. Saving often can help prevent lost work.
Export in multiple formats: Export cut video in several formats so that it can be used on multiple platforms and devices.
Keep track of old versions: If you plan on making further changes, be sure to save each copy of the file. If something goes wrong, you can always go back to an earlier draft without having to start from scratch.
Conclusion
Cutting videos on Android device can be quite simple if you know the right steps to take. Now you know how to trim videos on android. With this knowledge, you can easily remove sections of the video that you don't like. Or, shorten long clips for better viewing experiences.
You can also create montages and highlight reels by merging videos together.
If your video is still too long after trimming, simply speed it up.
Once all changes are made, add audio to polish your video.