Knowing how to crop TikTok videos is an important skill to have for creating engaging content. It enables users to concentrate on the main subject of their video and add text or other elements to increase the impact of the video. Furthermore, cropping is essential when attempting to ensure that the video fits within TikTok's recommended size requirements. Overall, mastering the art of cutting TikTok videos is a vital capability that every viewer should have if they want to create effective content.
How to Cut TikTok Clips with Online Video Cropper
Cropping your TikTok pieces of art is an excellent way to make them stand out and grab your audience's attention. With the help of Video Candy, cropping your videos is quick and easy! Here's how to do it:
Open the online cropping tool in your browser. Click the "+Add File" button to upload your video. Or, instead, just drag and drop it.
Manually select a crop area, pick a predefined size (16:9, 9:16, 1:1, 4:3, 3:4, 5:4, 4:5), or enter the required width and height in px. Find out more about various video ratios if needed.
Press "Play" to preview the video. Click "Export" if you are satisfied with the result.
To save the resulting video tap "Download File".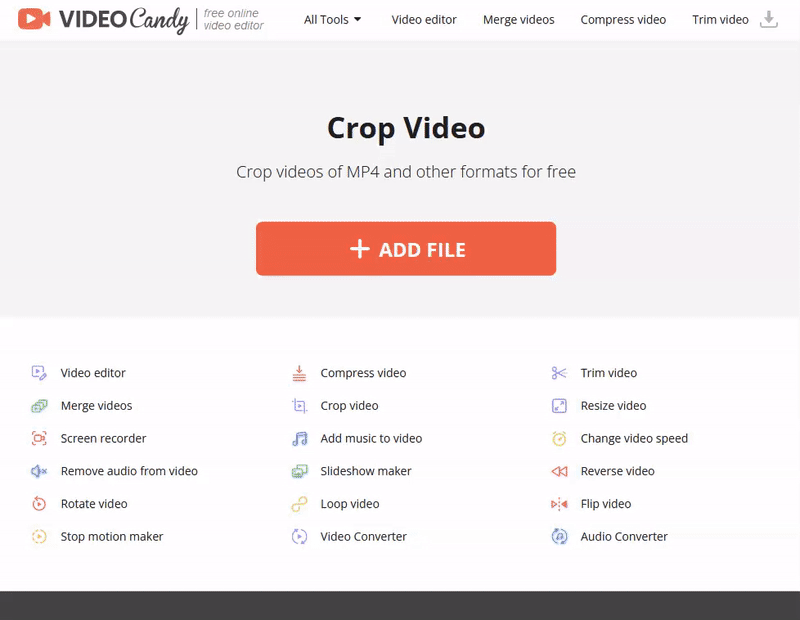 Advantages of an Online TikTok Video Cropper
Using online service is an efficient approach to swiftly crop TikTok videos as it offers a few key advantages:
Wide range of cropping options;
It's free and straightforward to utilize;
Upload videos from any device, whether it is a phone, tablet, or PC;
Cut your videos without losing quality;
Export high-quality videos in multiple formats (MP4, AVI, MKV, MOV, WebM, and others);
Availability of advanced tools like slow motion, trimming, and more;
Video cropper compatible with Windows versions from Vista to 11, MacOS, iPhone Pro, ProMax, Plus, Mini, SE, and Android.
So if you're trying to find an effortless method to provide TikTok videos an extra boost, give this free TikTok cropper a try! You won't be disappointed!
Recommended TikTok Crop Size
Sometimes when you upload a video to TikTok, it's automatically cropped. This can be really annoying and make your video weird. But there is a reason why it happens.
TikTok has a video format that it uses for all videos sent to its platform. If your original video doesn't match the needed aspect ratio, it will be automatically cropped to fit the format.
To avoid the problem, make certain that when you're creating videos for TikTok, you apply a 9:16 ratio. This ratio has become a standard for many different platforms, including YouTube and Instagram. By sticking to the ratio, you guarantee that your videos will look great when viewed on any device.
Reasons for TikTok Video Cropping
Cropping TikTok videos is a remarkable technique to get creative with your content and make it more engaging. Here are the top reasons why you should consider using video cutter:
Increase visual appeal: Focusing can aid in drawing attention to the most interesting parts, making video more visually appealing. Crop out unwanted segments in the background, as well as remove distractions from the subject of the video.
Improve focus: Use cropping to focus on particular aspects, such as a person's face or an object, assisting observers to see the most relevant fragments.
Highlight important elements: Cropping helps you spotlight the sections that are key in your video, for example, text or logos.
Create unique compositions: Through strategic cutting of video generate fascinating scenes that will hold watchers' curiosity.
Cropping is an easy and effective way to make TikTok videos stand out. It can help you emphasize crucial components and build captivating compositions that will keep viewers engaged and coming back for more!
What Does "We Need Crop" Mean on TikTok?
If you're a TikTok user, you may have heard of the phrase "we need crop" popping up in the comments section. But what does it mean?
In short, it is an expression used to indicate that the video being watched could utilize cropping. If a video contains any unnecessary elements, such as an unrelated background, the audience might comment "we need crop" to get the creator to cut the video.
The idea is that by cropping the video, it can be trimmed down to its most relevant and entertaining parts. So if someone comments "we need crop" on one of your videos, don't be afraid! It's just that person trying to improve videos by suggesting simple edits.
Things to Consider to Crop a TikTok Video Successfully
Here are a few ideas to maximize the benefits of cropping videos:
Resize video for TikTok from the center. Center your video in the frame so that it looks balanced and symmetrical.
Don't crop too much. Make sure that you don't delete important fractions of the video as this might ruin the overall effect.
Apply captions and text sparingly. Secure that any words or captions you employ do not detract from the main message.
Keep it simple. Avoid using complicated shapes or designs when cropping your videos. This can become distracting.
Following these hints will help assure that you make the most out of cutting your videos on TikTok and construct attractive and effective content!
Tips on Creating TikTok Content
Now that you are familiar with Tiktok Video Cropper, have a look at trending key blocks for business owners:
Post hashtags relevant to your industry or target audience;
Create engaging content that encourages user interaction;
Upload videos regularly so your followers know when to expect new content;
Try different video formats such as time-lapse or stop motion;
Leverage influencers within your niche by having them make sponsored content for your account;
Host contests or giveaways as incentives for viewers watching your videos.
Adhering to these straightforward instructions will guarantee that your videos appear stunning and leave an effect on TikTok!
Recap: How to Crop Video for TikTok
Crafting a TikTok video may be an excellent method to get inventive and make your content more captivating. Take your time to find the right frame for your video and verify it's in line with your video aesthetic. Keep in mind that you can only crop videos up to 15 seconds long and check you don't cut out any important information. Finally, don't forget to play around with speed, audio effects or combining multiple visuals to make your video even more unique!