Transforming a video to a GIF is becoming increasingly popular, as it is a creative way to share content. Hence, more and more services and applications offer the tool to convert video to GIF. The process is fairly simple. All you need is the right service or app and the video file you want to convert.
This article will offer you guidelines on how to make a GIF from a video. It will also explain what is GIF format and why you may want to turn your video into a GIF.
Convert video to GIF online
Utilizing this free video-to-GIF converter is a great tool to transform your video files into animated image forms quickly and easily. Below is an instruction on how to convert video to GIF with this service:
Open the video to GIF converter in your browser.
Click the "+ Add File" button and pick the video you intend to convert. The conversion process will begin automatically.
Once the processing is done, hit "Download File" to save your newly created GIF.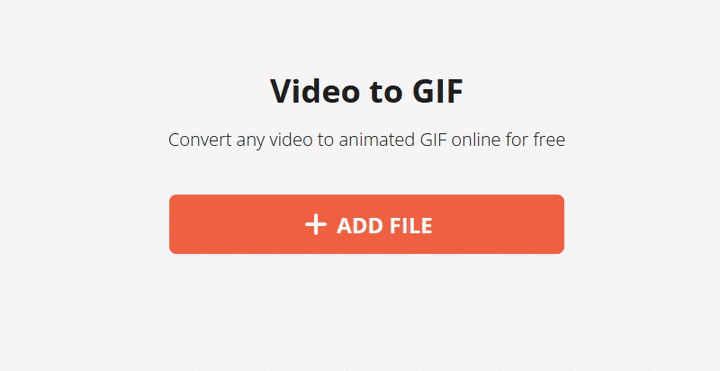 Your resulting file may be too big. Hence, before turning your video to GIF, consider trimming the video to make a GIF just out of the most important part of the clip. You may also speed up your video or crop the edges to make the initial file smaller.
Pros on online video to GIF converter:
Easy-to-use interface enabling users to create a GIF from a video in just a few clicks.
No need to install any additional applications or software on your device as all the work is done online.
Ability to process videos of up to 2 GB.
Support various video formats - you can convert MP4 to GIF, AVI to GIF, MOV to GIF, Webm to GIF, MKV to GIF, and more.
Works on all types of devices - iPhones (Plus, Pro, ProMax, Mini, SE), various Android-based phones, iMacs and MacBooks, desktops and laptops with Windows OS;
Offers supplementary video editing tools to perform other manipulations with videos online.
Using Video Candy is definitely the best way to quickly make a GIF from a video without any technical knowledge or extra effort required! Try out this GIF maker from video platform and explore all the tools it has to offer for your work with videos.
What is GIF format?
As you discover new ways to present your content online, you may wonder what is GIF and how it works. An animated GIF comprises an image file that contains multiple images or frames in a single file. It can generate simple animations, which are popular on websites and other digital platforms.
Utilization of GIFs is often used as a form of online expression and communication, due to their convenience to post, share, and view. They are capable of expressing convey emotions or reactions or creating funny memes and other items.
To create a GIF from video, you need to first convert the clip into individual frames. This is usually done with a video to GIF converter. Once the frames are extracted, they can then be combined into a single animation by adjusting the frame order, speed, and size.
Once the GIF file is ready, it can be shared on social media sites like Twitter and Facebook. You can use it as a reaction image on Reddit or Discord, or posted as a comment on YouTube.
Animated GIFs are also used in marketing campaigns and other types of content creation. For example, some companies use them to highlight new products or services engagingly. They are also great for creating eye-catching ads that stand out from the crowd.
Overall, creating GIFs are a simple and entertaining method to express yourself online. They are versatile enough to be used in many different ways, from creating humorous memes to sharing marketing messages. If you want to make your own animated pieces of content, all you need is a video to GIF maker. You can even combine several videos and then turn them into a GIF.
Why use an animated GIF file?
GIFs are an ideal method for keeping track of energetic moments and illustrating them in a visually pleasing way. With the right tools, you can quickly and easily turn a video into a GIF. Such way will help capture and share memories with your friends, family, and followers. Here are some of the reasons why you should consider making a GIF:
Attention-grabbing visuals. Animated GIFs can grab attention in a way that static images and videos cannot, making them more eye-catching and engaging.
Simple sharing. GIFs are lightweight files that can be easily shared across platforms. So, you do not have to worry about large video files slowing down your website or social media profiles.
A fun approach to telling stories. With creating GIFs, you will tell stories in an innovative way. Plus, you can edit your video to create an even more interesting visual experience.
Memorable moments. Whether it is a silly dance move or a funny reaction, making GIFs are great for capturing those moments that make people laugh and smile.
It is easy to make. Compared to creating content from scratch, it is much easier to convert a video to GIF and customize it for different platforms.
Animated GIFs offer a quick and easy way to capture fun moments and share them with your followers. As you learn about how to make a GIF from a video, consider the differences between MP4 and MOV, the two major formats. Perhaps, you will decide that you need to convert your video to a different format.
How to convert a video to GIF: conclusion
Making a video into a GIF file can be an ideal method to swiftly share your beloved moments. The key is to find the right tool for the job and pay attention to the details. Make sure you edit out any unwanted content before you create a GIF from your video. Try the video to GIF converter today! With a bit of practice and patience, you will be able to produce awesome GIFs in no time!